George Groves has defended his decision to spar with Mikkel Kessler
George Groves has defended his sparring sessions with Mikkel Kessler saying it was an opportunity he couldn't refuse.
Last Updated: 21/05/13 10:26am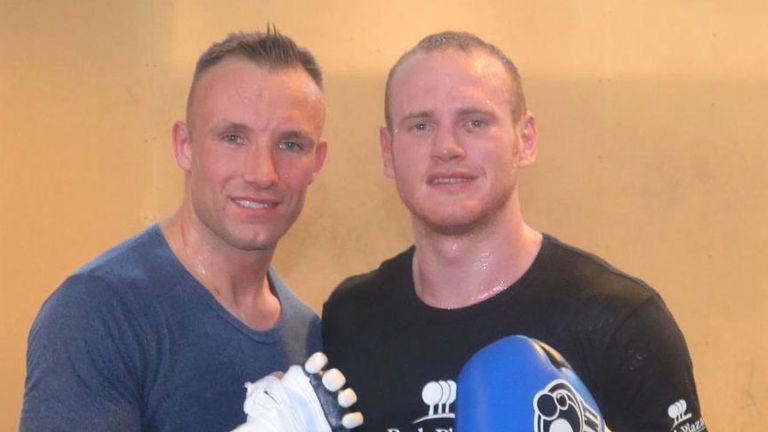 Groves was branded a traitor by Carl Froch for helping the Dane prepare for their huge super-middleweight unification fight at the O2 Arena on Saturday.
But Groves, who has one eye on challenging the winner within the next 12 months, has his own important fight with Noe Gonzalez on the undercard and said the decision was a 'no-brainer'.
"You've got a world champion in your division asking you for sparring, it was a opportunity I couldn't turn down," he told Sky Sports.
"We sparred in Copenhagen, got some quality rounds in, I came back to prepare for my own fight as I couldn't be away from my own gym for too long.
"I'm quite spiced up with this rivalry now, I've got the inside scoop on both fighters. They're both great fighters but I'm not going to commit - what happens in sparring is personal and shouldn't be shared, but for me there's definitely one winner.
"Being on the undercard there might be a chance of having a crack at the winner so that's something I'm very interested in.
"We all want Carl Froch to remain champion being British, if he does that it could be a big thing down the line for me and him to fight for a world title."
Froch said at the weekend he was surprised that Matchroom stablemate Groves and WBO light-heavyweight champion Nathan Cleverly had sparred with Kessler, claiming they were desperate to fight him.
"They'd rather go out and help a foreign fighter prepare for the biggest fight of my career - and I'm a British fighter," he told The Star.
"I certainly wouldn't help a foreign fighter prepare for a British fighter. They want a fight with me and it's not happening because I am leagues above the pair of them.
"George Groves wouldn't spar with me now anyway, because he considers himself a potential opponent of mine in the future. But he is the only one that considers that."