Froch v Kessler: George Groves wants to fight the winner for world title
George Groves is focused on the dangerous Noe Gonzalez but does have an eye on fighting the winner of Froch v Kessler.
Last Updated: 22/05/13 4:41pm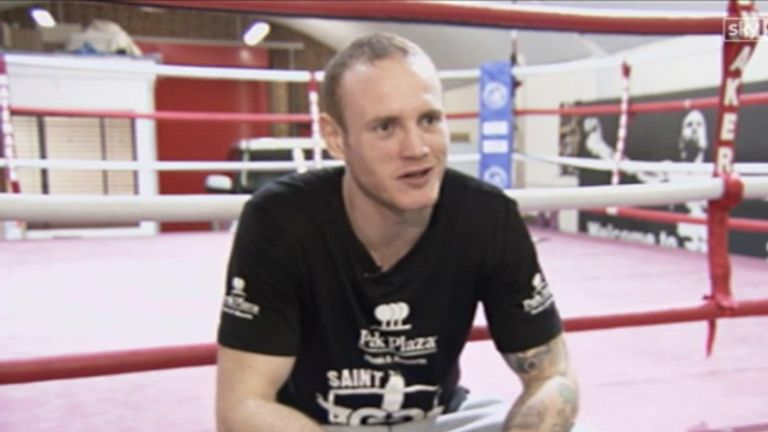 Groves faces the hard-hitting South American Gonzalez on the undercard of Froch v Kessler II at the O2 Arena on Saturday, and knows he is in for a tough contest.
Groves has been talked about in the build-up due to his sparring with Kessler during the build-up to the big fight, but for now he has his focus firmly in place for Gonzalez.
"It's a guy who's boxed at a high standard," Groves told Sky Sports News. "He's got an impressive record, an impressive knockout rating so he can definitely bang, and he's a guy we need to take seriously.
"He's well ranked so he'll help me move up the rankings even more and get closer to a world title.
"I'm at that stage now where I'm one more step to a world title but that one more step is a giant leap. Getting huge exposure on a Sky pay-per-view show in a huge arena is something I've had before so I know exactly what to expect.
"But it's going to help build to an exciting fight down the line hopefully for a world title."
Traitor
That world title fight could well come against the winner of Froch v Kessler, with Groves having sparred with both men - most notably the Dane in the build-up to the re-match in a move which Froch took exception to.
The Cobra labelled groves a traitor for sparring with Kessler, but Grove again says the offer was too good to turn down for his own development.
"Carl was the main instigator in that, traitor's a tough word to use - so he's the King is he and I'm traitorous against his throne?
"At the end of the day I was preparing for a fight so I needed some good quality sparring, Carl didn't offer me any but Mikkel did - it was a great opportunity to go out there and spar with a guy who is a world champion at my weight preparing for a fight at the same date.
"It's priceless sparring that I couldn't possibly turn down. There's lots of needle going around, but Carl knows the last time we sparred was before the first Kessler fight and it didn't do him any favours, so maybe I've gone out there and softened Mikkel up for him so maybe he should be thanking me.
"You've got the IBF and WBA titles on the line, I'm number two with the WBA so I'm very close to being the mandatory for that belt so that could mean I could fight the winner of these two, because the winner's going to come out with two more titles than I've got which is what I want.
"But I need to go out and do the business on Saturday night, I know how good this guy is so I need to go out and not only win but win well and force these guys' hands."