Darren Barker firmly believes he can dethrone world champion Daniel Geale in August
Darren Barker has banished his big fight doubts as he prepares to face IBF middleweight champion Daniel Geale.
By Richard Damerell
Last Updated: 25/07/13 1:59pm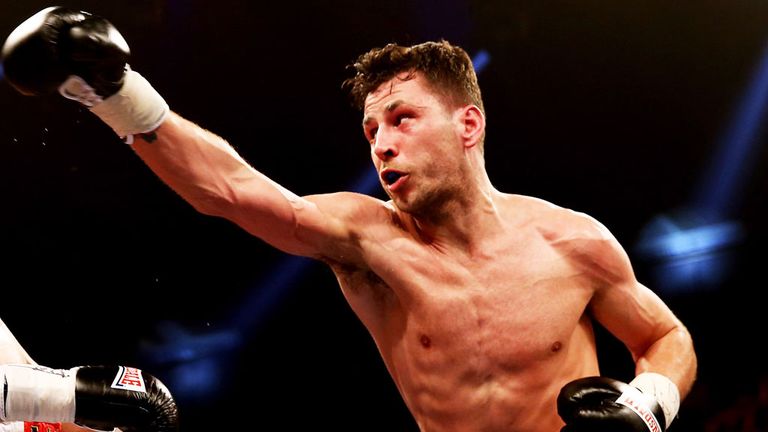 Barker fell short in his first shot at the top level, suffering a courageous stoppage defeat against Sergio Martinez in 2011.
But the Barnet man will face another of the division's main men when he battles Australian Geale on August 17.
Barker admits he had concerns about his clash with Martinez, who is considered one of the best in the sport, but his creditable display gave him new-found confidence.
He told skysports.com: "When I fought Martinez, I wasn't in the best of places. Physically, mentally I was all over the place but the experience I have gained from that is invaluable. You can't buy it.
"I feel like this is my time. I'm so confident. I'm saying that I can beat him like I did against Martinez, but when I said it before I think I was hiding behind the words a little bit.
"But now I'm saying it and I truly believe it's my time. This is what I started out in the sport to do, which was win a world title."
Peaking
Geale took the belt from Felix Sturm before defending it against 38-year-old compatriot Anthony Mundine and Barker feels both of these foes were past their best.
The Londoner has warned Geale to expect an opponent in perfect condition when he makes his second defence.
"They don't hand out genuine world titles for nothing," said Barker. "He's won it, he's fought some good fighters, but the fighters he's fought, no disrespect to them because they are great fighters, but they are slightly over the hill.
"I'm reaching my physical and mental peak and I think this will show in this fight. I truly believe I've got his number. I do respect him, he's a world champion for a reason.
When asked whether Sturm was on the slide, Barker said: "One hundred per cent. You could see that in his fights with Macklin and Murray. He was on the decline.
"Sturm was at his best when he fought (Oscar) De La Hoya all those years go, but nevertheless he's beaten a good fighter."
Friend
Barker had to act as Lee Purdy's cornerman for last weekend's fight with Devon Alexander in Atlantic City after his trainer Tony Sims failed to get a visa in time.
Barker pulled his friend out following the seventh round and questions were asked about the stoppage, despite Alexander's dominance, but the 31-year-old is certain he made the right decision.
"No-one saw what he put himself through at a month's notice and to do what he did, to get down to near the championship limit at four weeks notice is impressive. I'm so proud," he said.
"He'll come back better than ever. Lee, if he could have done, would have done 200 rounds and I would have had to drag him out, but why would I have wanted to see that.
"There are too many brave coaches out there.
"It's easier to watch a fight unfold and be it Lee gets knocked out or he could have knocked him out, but it's easier to let it unfold.
"It takes more courage to say 'You're in the seventh round, you are well down on the scorecards, let's let you live to fight another day'. Lee will. He's a fighter and he would have fought all night if he could have."