Nicola Adams warns rivals she is a better fighter ahead of Euros
Nicola Adams has sent a warning to her flyweight rivals as she aims to make more history on her return to the ring.
Last Updated: 13/06/13 11:14pm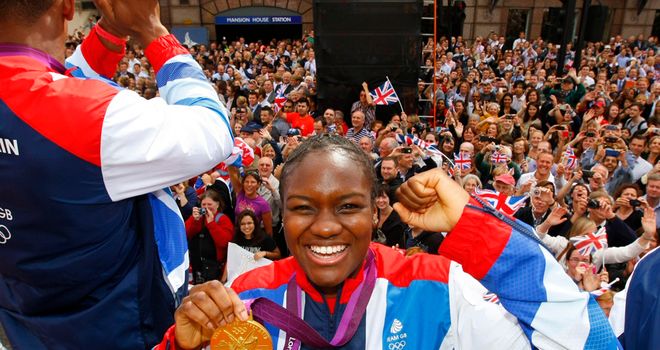 Adams, who had a long lay-off after her Olympic triumph last summer, has been named in England's squad for the European Championships in Hungary next month, with fellow Olympians Natasha Jonas and Savannah Marshall, along with Lisa Whiteside, Talia Anthony and Carly Wealleans.
And the Leeds star insists her time on the sidelines, due to a hand injury, has only made her a better fighter.
Adams said: "I've been itching to get back in the ring and you are definitely going to see an even better boxer this time round.
"My injury has been a blessing in disguise because it has enabled me to work on a few new moves, to work on my faults and see how I can improve.
"Boxing is one of those sports where you are never 100 per cent perfect at everything and you learn new things every time you train. Hopefully my ability to do that is going to be enough to keep me on top."
Having defeated her two-time world championship final conqueror Cancan Ren in London last summer, Adams will surely be top of the list to beat in Hungary.
Ahead of the championships, that takes place in Keszthely from July 1-6, Adams added: "As far as I'm concerned nothing has changed and I will go out and treat this as just another tournament where I will listen to the coaches and concentrate on my tactics.
"I don't see any pressure. If anything it gives me confidence to know that people expect me to go and get gold, because I must be doing something right to put me in that position.
"Everybody wants to take my top spot away from me and I don't intend to let them. My motivation levels are as big as ever and the chance to make more history in the tournaments ahead is what keeps driving me on."