Eddie Hearn is excited to be putting on a huge show in Hull next month
Eddie Hearn admits he's excited about what he says will be his biggest show when Luke Campbell makes his debut in Hull.
By Adam Norman
Last Updated: 24/06/13 4:08pm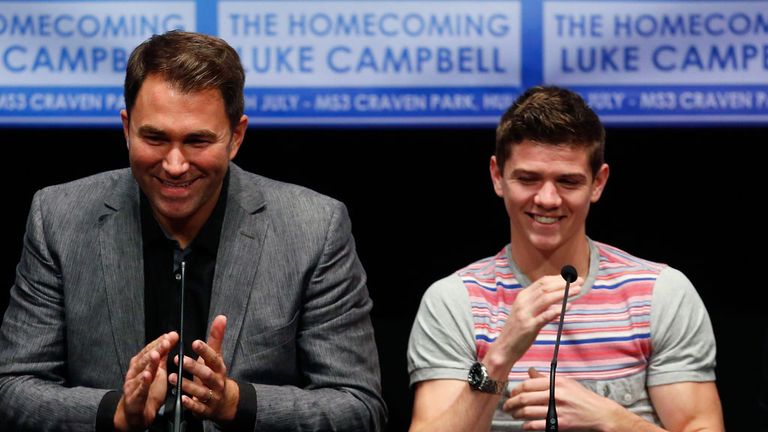 The Matchroom promoter is putting together a mouth-watering show at Hull KR's MS3 Craven Park stadium on July 13 featuring the Olympic champion plus fights involving Kell Brook, Lee Selby and Derry Mathews.
Hearn is well aware of Campbell's star status in his home town and is looking forward to building the youngster into a household name.
"It's everything you could want, I think it's the biggest show we've ever done," he told Sky Sports. "The card is stacked and we're at a point in the season when everybody wants to fight.
"We've got Brook v Jones, Mathews v Coyle. Lee Selby is in a very good fight while Rocky Fielding will also be on the card.
"So we're really excited with it culminating in Campbell's pro debut. I've been watching him spar and he's phenomenal. I really believe he'll be a future world champion.
"You know he's got a big following and with a star like Luke you've got to build him. He's got such a great face for that but when he's such a star in Hull you've got to stay here and build him.
"There'll be anywhere from 7,000 to 10,000 at Craven Park and I want to do 15,000 somewhere. I think we can get him to British title level pretty quickly.
"It's tough to match him. He's at a level where we can move him along quite quickly but I'm not looking for him to fight journeymen - I want to see him against young, aggressive fighters looking to come and try and beat him.
"I'm looking for him to have four or five fights before the end of the year. He's so fit and experienced he's probably ready to do eight rounders after a few fights."
The show, which will be live on Sky Sports HD, will bring the curtain down on the current season.