Floyd Mayweather and Saul Alvarez both sure of victory as super-fight promotion begins
Floyd Mayweather has warned Saul Alvarez he is not ready to relinquish his pound-for-pound top billing - now or ever.
Last Updated: 25/06/13 5:39pm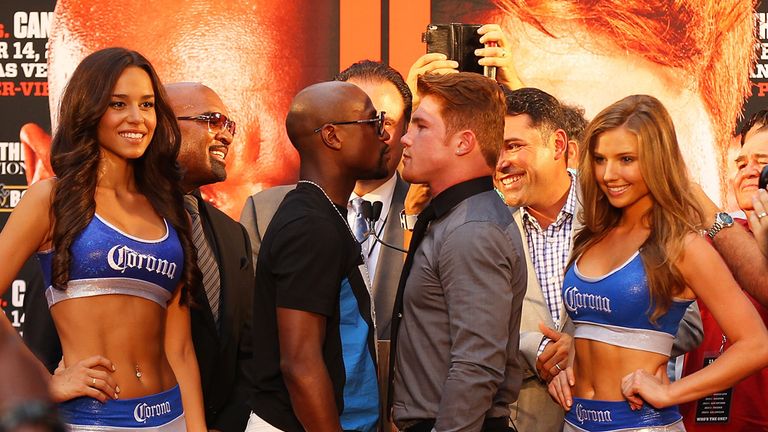 The unbeaten pair came face-to-face in New York at the start of an 11-city tour to promote their September 14 catchweight contest in Las Vegas.
And Mayweather was quick to shoot down his younger rival's claim that the time is right for a shift in power at the top of the sport.
"The Earth is my turf," Mayweather said. "You can put me in any ring and I will always come out victorious."
The five-weight world champion is 14 years older than 22-year-old Alvarez, who beat Austin Trout in April to add the WBA light-middleweight belt to his WBC title and is widely expected to give Mayweather a tough physical test.
"In the sport of boxing, it's everybody's time, and this is my time," Alvarez said, after earlier denying that the agreed 152lbs weight limit was set upon request from his camp.
"It wasn't me," he said. "I don't want to fight two pounds below my weight class. I've visualised this fight for years, and I feel I'm going to win."
Mayweather later gave a more considered appraisal of the fight, saying: "When you're the best you only want to test yourself against the best and that's what the fans wanted to see.
"If you look at the opponents he's faced and the ones I've faced the big difference is experience, but he's done something right to get to this point so he's a guy I can't overlook."