Joe Calzaghe insists George Groves could surprise Carl Froch if the two meet
Joe Calzaghe believes Carl Froch was wrong to write off George Groves and James DeGale as possible opponents.
Last Updated: 24/10/13 2:12pm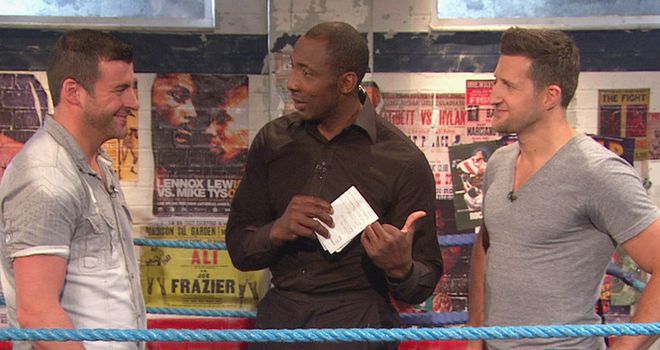 Froch currently holds the WBA and IBF super-middleweight belts and is willing to face Groves if he becomes a mandatory challenger for one of his titles.
The Nottingham man had previously dismissed Groves and James DeGale as possible opponents, claiming he would ruin the unbeaten duo's careers if they met in the ring.
Calzaghe insists Froch should not berate his British rivals for calling him out and accused 'The Cobra' of acting in a similar manner when he reigned the division.
The Welshman accepts that Groves would be a big outsider against a seasoned champion like Froch, but feels he could spring an upset with the correct game plan.
"He would be the underdog I think, but yeah I think he has a chance," Calzaghe told Ringside Toe 2 Toe podcast.
"I think he has a chance of beating Froch if he fights the right tactics. Like I said, Froch can be out boxed. I think he's shown that. Whether he is good enough to outbox him I'm not too sure, but why can't he call him out. He's undefeated. Froch was in the same position, calling me out all them years ago.
"For him to ridicule these opponents is out of order a bit, considering that's what he did, chasing me for years and years when I was looking at bigger fishes to fry, so that's part of boxing."
Blemish
Froch's top target is Andre Ward as he is determined to avenge a points defeat by the American in 2011.
Having beaten Mikkel Kessler on points in May, Froch is keen to make amends for the only other blemish on his record, but Calzaghe would back Ward for a repeat win.
When asked about a rematch, he said: "Very difficult because I don't think Carl can adapt.
"I think Carl fights one way and that's that. Some fighters can't adapt much and I think a good boxer always beats a good fighter. I think he's an exceptional fighter, Andre Ward.
"He's not my cup of tea to watch, but he's very very clever. He moves well on his feet, he's got good hand speed, he's elusive and he's pretty good on the inside as well, so it will be very very difficult.
"He'll have to change something. He will have to go at him at the opening bell. What I would say about Andre Ward, he seems to tire late in fights, so that's the one thing I can say.
"If he stays on him from the opening bell and tries to pressure him and drag him into a war that will be his best chance. But I think Andre Ward's very clever and will probably see that coming."