Gavin Rees said he got his tactics wrong in his defeat to Anthony Crolla
Gavin Rees admitted he only had himself to blame after losing to Anthony Crolla on a majority points decision.
By Adam Norman
Last Updated: 04/07/13 9:15pm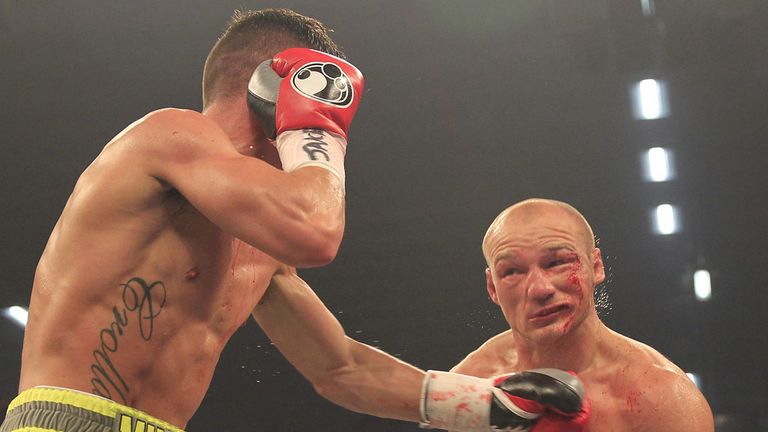 After a closely fought contest Crolla was given the verdict on two of the judges' scorecards, with a third scoring it a draw.
However, Rees had taken his foot off the gas in the final two rounds thinking he was ahead on the cards, and paid the price.
"What a fool - if I could have those two rounds back now," he told Sky Sports. "By the 11th I thought I'd won it.
"I thought I jabbed his head off in the first half of the fight and started messing about. What can you say, I'm an idiot.
"He's a good kid, jabbing and moving away a lot but I thought I was out-jabbing him and hitting him with the cleaner shots, but obviously you lot saw it different.
"I'll have to watch it on video and see what happened. I felt good in the gym and thought I was the best over 12 rounds. I can't believe I started messing about. But you can't go back in time."
Dancing
Trainer Gary Lockett added that Rees did not listen to his instructions as the fight wore on.
"When he was jabbing and moving and picking Anthony off I thought he looked really good at times, but Anthony kept coming throwing those looping hooks and catching Gavin with his hands down," he said.
"I kept telling him to tuck his elbows in, don't load up and keep your hands up, but he's been a long time with his hands down and it's hard to turn it around.
"I felt that he'd done enough but I told him before the 12th 'you need this round big' and he's dancing round and diving in with shots when he really needed to put it on him.
"Hometown advantage is very big in boxing and I think it's played a part tonight."