David Price has no plans to quit boxing following another defeat to Tony Thompson
David Price has vowed to keep fighting in the wake of Saturday's devastating second defeat to American Tony Thompson.
Last Updated: 07/07/13 1:58pm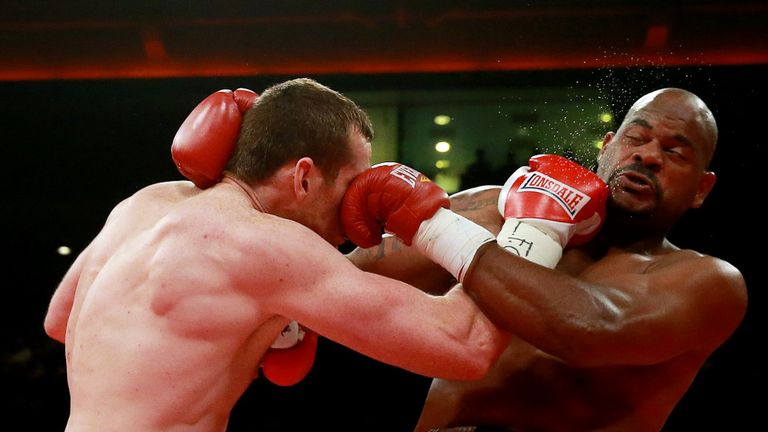 The Liverpudlian was hoping to avenge his first-ever loss in professional boxing at the weekend in a re-match with Thompson, but succumbed to a fifth-round stoppage.
It has already been suggested Price could consider hanging up his gloves following a second straight defeat, although he has been quick to deny he will be calling it quits.
Price will give himself time to digest the stoppage by Thompson, stating losing again to the American was not part of the script.
"I'm trying to come to terms with what's just happened again," said Price.
"I'll have to have a look back at it next week but I just need to come to terms with another defeat - another major disappointment.
"It was a big occasion so I was more tense than usual so maybe it was that. I don't know."
The 30-year-old floored Thompson in the second round, but he appeared to punch himself out while pursuing a swift stoppage.
Price admitted he lost his composure in the heat of battle and abandoned his tactics.
"I put him down at the end of the second round and I thought 'I only need to catch him again and he'll go'. But obviously that wasn't the case," he said.
"Maybe my fighting heart got the better of me. The instructions from my corner were for me to take my time and stick to the gameplan but that was something I didn't manage to do."
Stamina
Price spent three weeks training with Lennox Lewis ahead of Saturday's bout and the former heavyweight champion of the world believes increasing his stamina is the key to getting his career back on track.
"It was a very important fight for him so maybe it could be nervous energy, it could be low blood sugar. We need to investigate what exactly is the problem," said Lewis.
"To become a great fighter you have to have a good chin. You have to have stamina. You have to be able to box on the inside and the outside and you can't get cut.
"So we find that David's got a stamina problem, all we have to do is fix that."
Thompson insisted he was not badly hurt in the second round and hopes the win will push him towards a third world title shot.
'The Tiger' is keen to return to Britain as he believes a win over Tyson Fury would be the ideal stepping stone.
"I think all of you guys were surprised when I got up from that knockdown," he said. "The only people not surprised were me and my team."
"I'll do the same thing to Fury - five rounds. David Haye is going to mess my plans up though because he's going to beat the hell out of Fury if they fight. So I'm not even talking to David right now!
"I hope David stubs his toe in the bath or something and has to call the fight off because I need that big bum (Fury). I think he's ranked number one with one of the bodies and I need that ranking.
"David Haye is a good fight for me but does he get me to a championship fight? I don't know."