Luke Campbell sets sights high ahead of professional debut against Andy Harris
Luke Campbell says his pro debut against Andy Harris on Saturday is the first stage in his bid to become world champion.
Last Updated: 09/07/13 12:47pm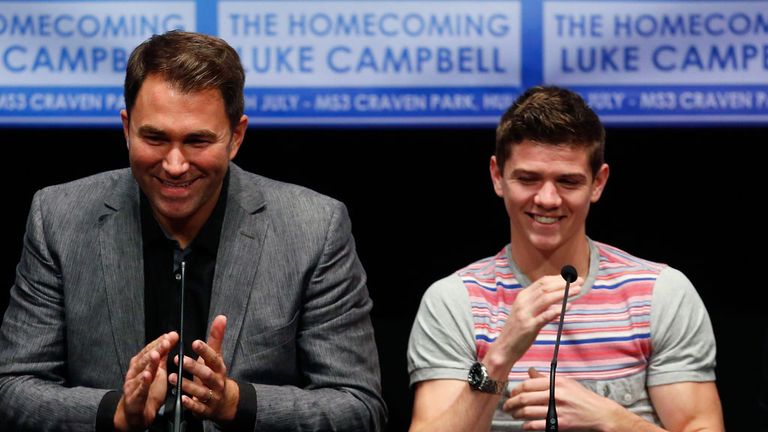 The Olympic gold medalist is confident he will impress at the MS3 Craven Park in his home-town of Hull, live on Sky Sports HD1, having taken a trip to New York's famous Gleason's Gym and before spending a week in Essex at Tony Sims' gym with the likes of Kevin Mitchell, Martin J. Ward and Ryan Taylor.
"I'm not nervous at all, just incredibly excited," said the 24-year-old. "I had nerves before the Olympics, but I'm not nervous about my debut, I'm just really looking forward to it. I've trained incredibly hard for it and I plan to put on a great show to excite the fans so they come back again.
"The best boxers in the World have to make their debuts and that was just their first step on the road to World title success - and ultimately that's my goal.
"It's a new leaf and I'm so excited about it. I had a good rest after the Olympics and I've got the buzz well and truly back for boxing, fresh mind and a fresh body with new goals to reach.
"Eddie [Hearn] is the man and as far as the rest of the year and the future, I'll look after myself in training and I know he'll pick the right path for me.
"I would like to be really busy and box as much as possible as that's where you learn the quickest in the pros. I was always busy in the amateurs and it suited me, so that's what I want in the pros.
"I know Andy will come to Hull looking to spoil the party and I've heard from Thomas Stalker and Martin J. Ward that he's a tough lad, so it will be a good test on my first night in the pros."
"New York was brilliant," said Campbell. "You've got to take yourself out of your comfort-zone and it's a pretty hostile environment over there, you've got 20 or 30 Americans screaming at you, baying for blood when you are sparring one of their boys, so it was a great experience, and important to get rounds in with some experienced pros.
"Kevin Mitchell is a great guy as well as a great fighter, and Ryan Taylor was getting ready for Prizefighter and he's a tough, hard-hitting light welterweight so Essex was as good a learning curve as New York."