Tyson Fury told David Haye he was the main attraction in their fight in September
The verbal jousting between David Haye and Tyson Fury got off to a predictably interesting start on Thursday.
By Adam Norman
Last Updated: 02/09/13 4:17pm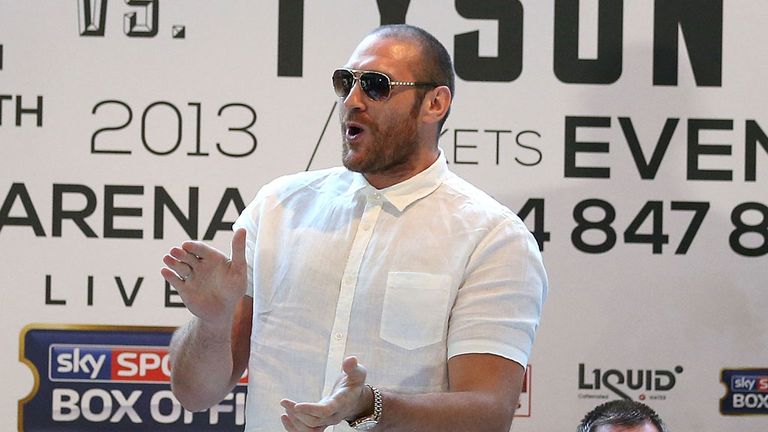 Haye, the former WBA heavyweight champion, goaded his opponent saying he was happy to give Fury a big pay day as a reward for reaching his level with a 21-0 record in his career so far.
But Fury, who at 25 is seven years younger than Haye, insisted Haye was getting the big pay-off because of him.
"Let's not get things confused here," he told Haye. "You're the dog and I'm chucking you a bone. Before the Tyson Fury fight where were you going to go, who were you going to fight? Nobody.
"I'm giving you a chance. I'm the young up-and-comer, the one on everyone's tongue. You're the one that stinks the place out and blames it on their toe.
"Then you fight him Chisora, who when I beat him was a virgin, when you beat him he was a journeyman. So it's me giving David Haye the bone, not the other way around.
"He has a lot to say, people like to hear what David Haye's got to say. After the fight with me he'll have a lot to say, and a lot of people can laugh at him."
Fury later told Sky Sports that he wondered whether Haye still has the desire to be world champion.
"I'm younger, taller, better looking and have more heart," he said. "I've got a lot of tools that he hasn't. He's been there and done it but you've got to ask yourself 'how much has David Haye got left?'
"Does he want to be a fighter or a celebrity? We shall see on the night. A win over David Haye will put me right up there for fighting all the big guns in the division."