David Haye says he is 'marking time' as he waits to fight one of the Klitschkos
David Haye said he is just 'marking time' by fighting Tyson Fury as he waits for his chance to take on a Klitschko.
By Adam Norman
Last Updated: 02/09/13 4:18pm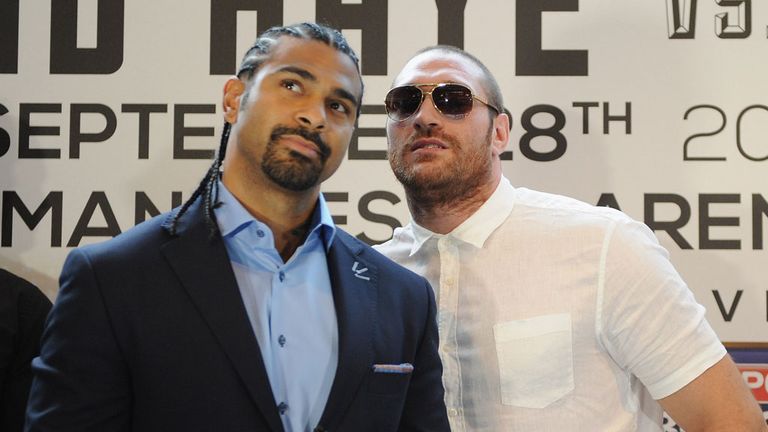 Haye is still hungry to avenge his defeat by Wladimir, or fight big brother Vitali, before their careers are over.
But with neither apparently willing to take the fight on at this time the Londoner implied he does not consider Fury a threat by saying he was just 'ticking over'.
"It doesn't look like the Klitschkos are willing to come to the table any time soon, so instead of sitting around I thought why not get in the ring, go through training camp and keep myself ticking over," he told Sky Sports.
"It's a 'marking time' fight to keep me active, keep the fans happy. He's really delusional and everybody wants to see this guy get knocked spark out. Who better to do that than myself?
"He says crazy things, but credit to him he's 21-0 and a big guy - he's 6ft 9in and I'm 6-3 - so it's going to be entertaining while he's able to stand up, but I'm looking to take him out pretty quick.
"I'm been in the ring with bigger guys before. I'm looking forward to the build up - he's coming to beat me, nobody says the things he says unless they're confident of victory.
"He's in the top 10, he's unbeaten. He hasn't beaten any big names yet, (but) I think he can be dangerous on his day and he's young and fresh. I'm a veteran now, I've been around a lot longer and it's nice to be on the different side of things.
"Just watch a clip of Tyson Fury. The guy is a lunatic, he's rough and ready and dirty in the ring and he's predicting a violent knockout. Obviously I have a different opinion but it's going to be a great fight and a huge talking point over the next couple of months."