Luke Campbell will box frequently as his pro career gets up and running
Eddie Hearn says Olympic gold medallist Luke Campbell will be worked hard as he makes his way through the pro ranks.
Last Updated: 14/07/13 5:45pm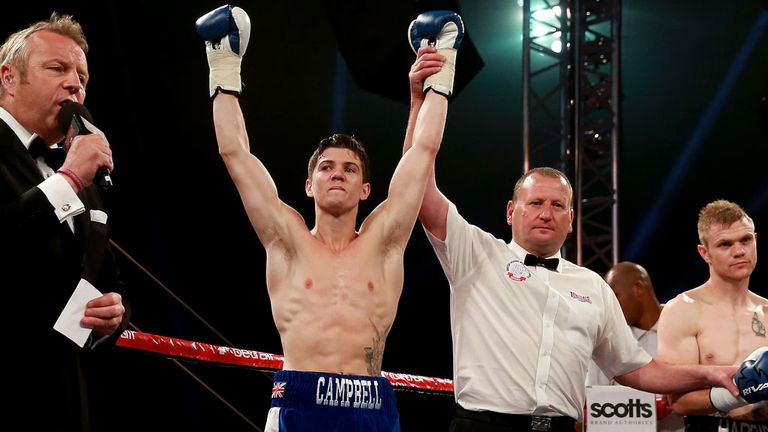 Campbell, 25, began his pro career on Saturday night in a lightweight bout against Andy Harris and knocked his opponent down twice on his way to an impressive 88-second stoppage victory.
And Hearn says the hot prospect is to be kept busy over the next 12 months.
"I want him to box at least once a month, certainly for the next year, and sometimes twice a month," said the promoter.
"I want to box him in all the big shows we do all over the country, and also take him to America. One fight at a time, as far as Luke's concerned. The next one will be September 7 on the Ricky Burns undercard in Glasgow."
Hometown hero
Even though it was his first pro fight, Campbell topped the bill at Hull KR's Craven Park ground, and the locals were out in force to watch their hometown hero.
"I don't think it's ever happened before, someone turning pro in a stadium fight," said Hearn. "I thought Luke was mad when he suggested it but, after I came to Hull and saw the support for him, I wanted to give it a go.
"We wanted to make a statement because we're going to put a lot behind Luke Campbell.
"Without Luke this card wouldn't have happened here, it would have happened in another arena, but it was an audacious move.
"I think it worked well, I think the people in the city enjoyed it.
"I think it was groundbreaking and, if we're going to reach out to the casual fans and the wider audience, which I think Luke Campbell's got the ability to do, we need to make statements like that."