Tyson Fury's trainer expects 'world class' win over David Haye
Tyson Fury's trainer insists his fighter will produce a 'world class' display against David Haye on September 28th.
Last Updated: 02/09/13 4:20pm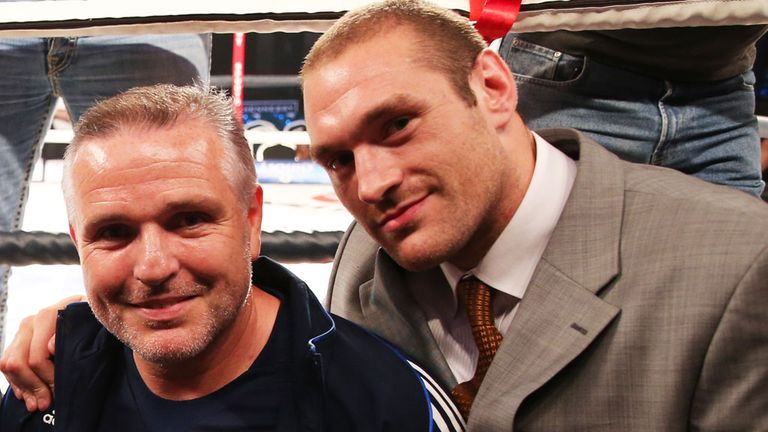 The 25-year-old Fury is facing the biggest test of his career when he battles Haye at Manchester Arena on September 28th, live on Sky Sports HD Box Office.
Haye is a former two-weight world champion and enters the fight as favourite, but opposing trainer Peter Fury is confident his man will make a mockery of the pre-fight predictions.
Pundits have suggested that Haye holds advantages in speed, power and experience, but Peter expects the younger fighter to shine in the big spotlight.
"There's no excuses for this fight, I'm going to be there every step of the way," he told the Ringside Toe-2-Toe podcast.
"I'm going to be in the corner, giving his instructions and expect to see a solid, world class Tyson Fury. Better than the previous fights.
Opinion
"I'm not going to give predictions, but I don't think it's going to be as hard a fight as people think it is and that's my honest opinion. I think it's going to be a lot easier and people are going to be shocked at how Tyson deals with it."
Fury produced a reckless performance in his last fight against Steve Cunningham and had to climb off the canvas before halting the American in New York.
His trainer was absent from the corner in Madison Square Garden due to visa issues and was not surprised that Tyson struggled without him.
"They're all going on from the Cunningham fight, but like I said, I wasn't there. It's almost like Lewis Hamilton driving around a race track with nobody in the cockpit. It's as serious as that.
"His life is in my hands. When all of a sudden that is taken away, it's going to have a big impact.
"So Tyson reverted back to what he knows best, get Cunningham out of there as best he could and that was the situation there."
Achievements
Fury heaped scorn on Haye's achievements at the pre-fight press conference and questioned whether he could withstand the firepower of a 6'9" tall fighter.
This dismissive approach is not shared by Peter, who is full of respect for the 32-year-old Londoner, and recognises he must find a way to nullify the dangerous puncher.
"David Haye is a fighter-boxer, he's the worst kind of opponent you can be in with," he said.
"He's got the speed, he gives angles, he's an accomplished fighter. He's only lost to two world champions of very high calibre, so this is a very good fight for Tyson.
"But ultimately we see things just as Haye's camp will see things with Tyson and it's who brings the best game plan on the night and who can execute it the best."