Olympic boxing heavyweight gold star Anthony Joshua happy at pro turn
Olympic heavyweight gold medalist Anthony Joshua says he could not delay the decision to turn professional any longer.
Last Updated: 25/07/13 4:46pm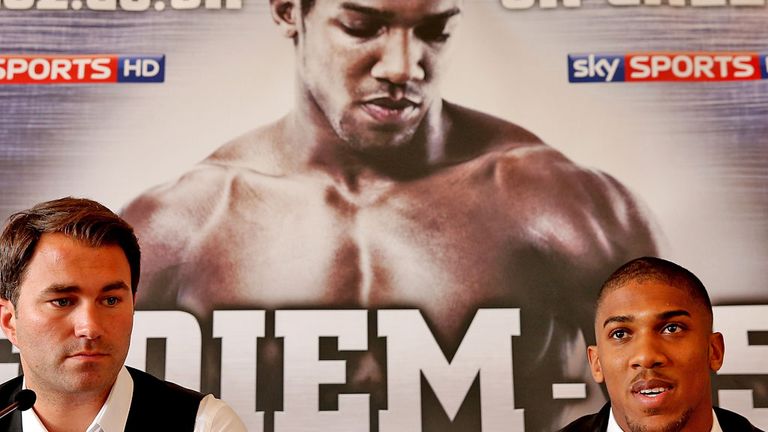 The 23-year-old won London's top amateur boxing prize in front of his home crowd during the 2012 Games but has now signed a three-year deal with Eddie Hearn's Matchroom Promotions.
Joshua will begin his professional career in a six-round fight at the O2 Arena on October 5 against an opponent yet to be named, and the Watford-born fighter believes his decision to leave the amateur ranks has come at the right time.
"I just want to get the ball rolling," he said. "I realised the improvements I was making so after the Games I thought I could go on to Rio and capture a second gold medal - I looked at that option and I looked at the professional option.
"I'm glad that I fulfilled my dreams at the Games, after that I met with Eddie and talked to a lot of people. I listened and listened and I'm here now after about 10 months and I feel in my heart and in my mind that this is what I want to do.
"This is what I want to be involved in and I know, moving forward, that it will never be a decision that I regret and that is the main thing."
Pleasing
Hearn's top quality stable of fighters boasts big names such as Carl Froch and Kell Brook as well as Joshua's fellow Olympian Luke Campbell and he insisted Joshua could excite the British and world public to become the face of heavyweight boxing in the future.
"For me this is a very pleasing day," said Hearn. "We have all seen what Anthony Joshua has achieved in just 43 amateur fights - culminating in Olympic gold.
"Finally, I believe we have a heavyweight in this country we can get very, very excited about. He has got it all, speed, power and he looks the part.
"I think we have got the perfect ambassador, not just for British boxing but for British sport. British boxing is on a high at the moment and Anthony is the right role model to take it even further. I'm delighted to introduce him the world of professional boxing."