Tony Bellew sure he has tools to beat Adonis Stevenson after being given world title chance
Tony Bellew insists he will show Adonis Stevenson "the respect he deserves" in of their anticipated world title bout.
Last Updated: 26/07/13 10:43am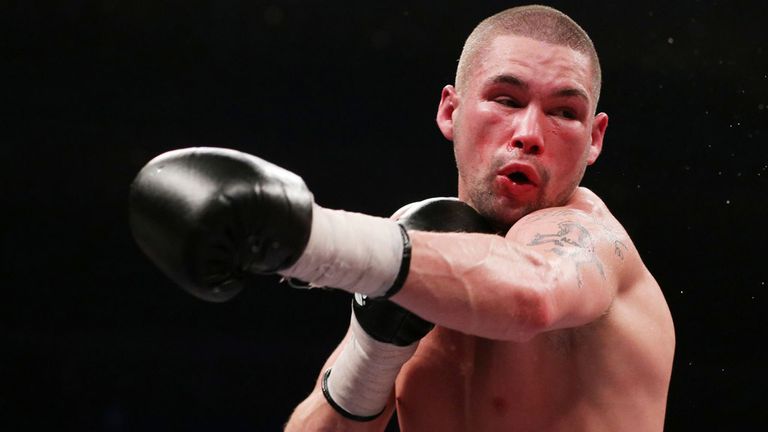 On November 30, the British fighter is set to meet the winner of Stevenson's clash with Tavoris Cloud, which should take place in September.
Stevenson won the prestigious WBC belt when he stunned Chad Dawson with a first-round knockout in June, when, in Bellew's eyes, Dawson was undone due to taking his opponent too lightly.
But while Bellew is confident he has the tools to defeat the explosive Canadian, he insists that he will not display any complacency should he face him.
"It is what it is, he landed a freaky punch (against Dawson) and that's the way it goes in this business. But you can be assured that I will show him the respect that he deserves," he told Sky Sports News.
"He's going in there against a guy that is even bigger than Chad Dawson and somebody who is going to impose their will on him even more than he tried to do.
"When he meets me he's not meeting somebody who's not going to show him any respect, he's meeting somebody who will show him the correct amount of respect, but he's also meeting someone that wants to punish him and who is very hungry and has goals.
Champion
"I'm just looking forward to getting to November 30 and becoming world champion."
Cloud is unlikely to be a walkover for the new champion, however, the American being a former holder of the IBF title and having lost just once in his career, to Bernard Hopkins.
Bellew backed Stevenson to make a successful defence and is keen for 'Superman' to enhance his reputation ahead their showdown.
"I just think that styles make fights: Tavoris Cloud comes to fight and Stevenson comes to fight," he said.
"But I think you've got one guy (Stevenson) with extraordinary one-punch power and I think that will be a factor in the fight at some stage. I believe he will be too strong and too explosive for Cloud."
Bellew added: "But if it does happen to go past six or seven rounds, I think that we will start to see the real Stevenson.
"I'm hoping that Stevenson comes through because, at the end of the day, I want to beat the man who beat the man, and for me Chad Dawson was the best fighter in the world at 175 pounds.
"Now he's been knocked out by Adonis Stevenson, it makes Stevenson the best in my eyes. So I want to go in with Stevenson and prove that I'm the best."