David Haye v Tyson Fury: Adam Booth warns Fury has taken fight too soon
Adam Booth has warned Tyson Fury September's Sky Box Office fight with David Haye has come too early in his career.
Last Updated: 02/09/13 4:23pm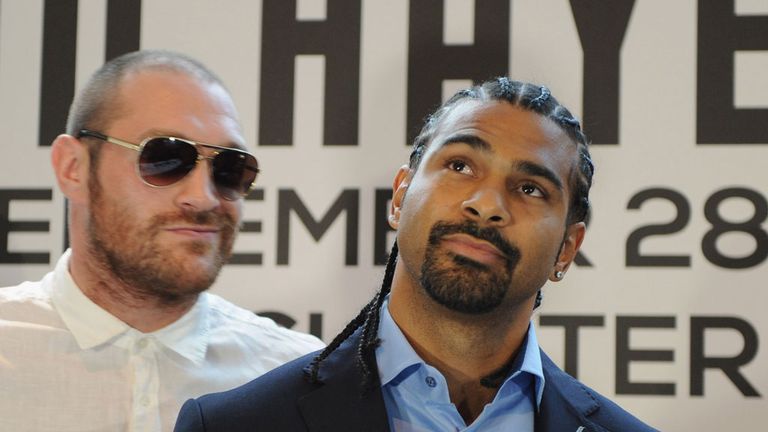 Trainer and manager Booth is preparing Haye for his first appearance in 14 months on September 28 in Manchester, home town of his unbeaten opponent.
Fury's outspoken tactics for securing the blockbuster heavyweight contest bore hallmarks of Haye's relentless pursuit of Wladimir Klitschko, a pursuit which ultimately ended in a landslide points defeat and the surrender of his WBA title in July 2011.
But, for all his admiration of Fury's upwardly-mobile career path and his insistence that the fight is more than just a "stepping stone", Booth can only foresee victory for his man this time.
He told Sky Sports News: "I really like Tyson Fury. I think he's doing a fantastic job of selling himself.
Hardcore
"Because I love boxing I want people other than hardcore boxing fans to want to see it. Guys like Tyson Fury, and David, bring those people in. It's great that everyone wants to watch this fight.
"As a fighter, over the past 12 months he's improved immensely and he's improving very quickly. Huge kudos to his coach Peter Fury.
"But having said that, even with another nine weeks improvement I'm as confident as I can be that this fight isn't right for Tyson Fury at this moment in time.
"He still has a good career ahead of him, it's just that on September 28 I expect David to be the one who's holding his hand high."
Booth rejected suggestions ring rust might affect Haye, saying: "The biggest challenge has always been in the gym, because he loves to fight whether he's in shape or not. But he's definitely got the love of training back, which makes my job a whole heap easier."