Larry Ekundayo is buzzing ahead of his battle with Glenn Foot
Larry Ekundayo hopes his upcoming battle with Glenn Foot can be made an eliminator for the British welterweight title.
Last Updated: 02/08/13 4:25pm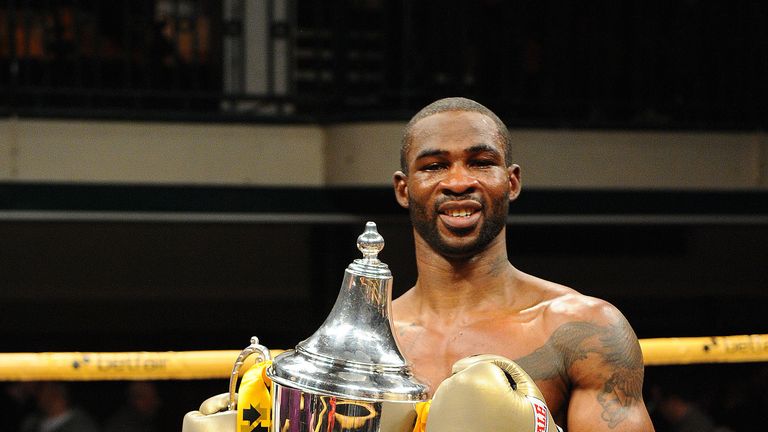 The unbeaten Prizefighter champions' clash, which is being shown live on Sky Sports, is part of a bumper bill that includes Olympic Gold medal star Anthony Joshua making his professional debut.
Ekundayo crashed into contention when he claimed the Prizefighter Light Middleweights III title in November at the York Hall in Bethnal Green after just two professional fights.
Two months later, Foot came out on top in a barnstorming night at the Civic Hall in Wolverhampton to lift the trophy in Welterweights III.
Brilliant
"It would be brilliant if it was an eliminator for the British title," said Ekundayo ahead of his seventh fight.
"Right now, just for the fact that we have the fight, I am buzzing. A lot of people are already debating it on the internet - Glenn Foot's fans and my fans are discussing it. It shows it is a big match up domestically.
"The first time I saw him was in Prizefighter. He was quality that night, he is a quality fighter, and he worked really hard and deserved to win.
"It is the biggest fight of my career so far. If you call yourself a fighter you cannot duck other fighters. One of us has to lose and that person will have to deal with that.
"This is the sort of fight I look forward to and people know that there are no shortcuts - since I turned pro last year, apart from my debut, I haven't fought a guy coming to lose. There is no point messing about."
Kevin Mitchell, unbeaten Welsh featherweight star Lee Selby, former Team GB starlet Martin J. Ward and another Prizefighter champion, Wadi Camacho, are also on the bill in the capital.