Amir Khan has called on Devon Alexander to agree terms for a December clash
Amir Khan has called for Devon Alexander to reach an agreement on their potential fight later this year.
Last Updated: 10/08/13 5:43pm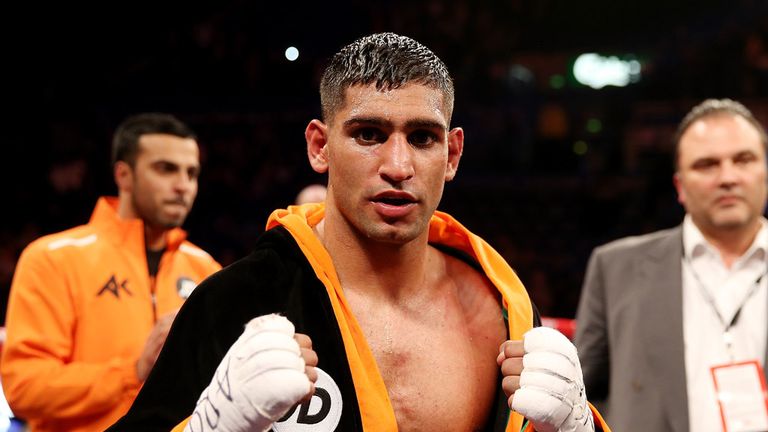 Khan is set to return to the ring on December 7 with the current IBF welterweight champion seen as the ideal opponent for the Briton's first fight at 147lb.
Team Khan had put Dubai forward as a possible venue owing to the former two-weight world champion's large fan-base in the Middle East.
However, Alexander has previously stated he is not prepared to defend his title outside the United States, which Khan says is fine by him.
"We are looking at December 7 for my next fight and looking at opponents," Khan said.
"I have tried to get Devon Alexander. It was looking promising. He said he wanted to fight at the start and now it slowly seems that he is not 100 per cent sure about it, coming up with excuses.
"Even if it's not in Dubai, I will fight him in America, I will fight him wherever."
Training
Khan currently splits his time between England and the United States but will be undertaking a more serious training regime going into his next fight.
"It's all about moving to that big fight against Floyd Mayweather," said Khan. "Hopefully getting this win against Alexander will get me into that fight. We are going back and forth to America and doing mini camps but I'm trying to spend more time there.
"This time I'll be there for 15 weeks rather than rushing into training straight away for eight weeks. I can build into it."
And the 26-year-old believes the weight class will suit him as he continues to grow into his frame.
"Being at 147, I won't be killing myself making the weight and I'll be much happier going into the fight," he added. "It's the right time, I have been killing myself to make the weight too long.
"It's good to step up a weight and feel more comfortable, plus there are new challenges out there."
Should Alexander agree to fight Khan in December the winner must take on mandatory challenger Kell Brook within 90 days, or relinquish the belt.