Nathan Cleverly considers future after first professional defeat
Nathan Cleverly admits his future in boxing is uncertain after his world title was ripped away by Sergey Kovalev.
Last Updated: 20/08/13 10:27am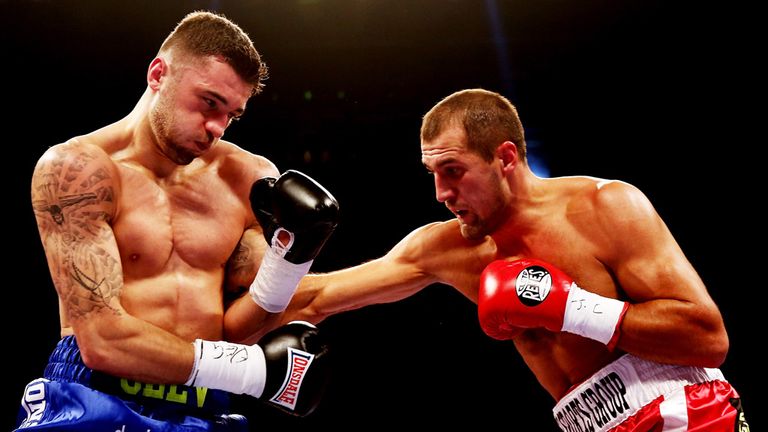 Cleverly's fifth defence of his WBO light-heavyweight title ended in disaster as he suffered a crushing fourth round knockout defeat against Kovalev at the Motorpoint Arena in Cardiff.
The Welshman had been targeting a fight against American ring legend Bernard Hopkins, but the Russian ruined his plans with a chilling display of his punching power.
Cleverly is still coming to terms with this devastating defeat and has suggested he could even walk away from the sport after losing his unbeaten record.
He told Boxing News: "I've had two fights in a row now and I haven't really had a break and bounced straight back into this one - and it's been a long training camp.
"So it's just time to have a normal life for a bit, maybe just have a couple of months just resting and enjoying myself and leaving it to my inclinations to guide me, really.
"See what my desire is, if I want to continue. Am I going to stay at light-heavy? Will I continue boxing? Do I want to find something else to do in life? It's a matter of having a break and letting my inclinations guide me."
Drinks
He added: "What's my gut instinct now? Just live a bit. Live a bit for a couple of months with friends, with family, have a few drinks, have a bit of junk food, have a few nights out, go on holiday.
"You know, your instinct will guide you. I've always said as soon as I lose in boxing I will get out of the sport. Do I stick to that? Who knows. We'll see."
Kovalev has 20 stoppages in his 22 wins and Cleverly's granite chin could not withstand his concussive power.
Cleverly was floored twice in the third round and revealed that the punches felt like being hit with a 'hammer'.
"I suppose I wasn't surprised because with his record it was inevitable that he was a banger and every shot he threw was a thudding shot. It was like a hammer," he said.
"He wasn't rapid fast, he had good timing, good distance and his punches were just so hard... His jab, his right hand. Just when he caught you on the shoulder he would have an impact and he was just clubbing me."