Ashely Theophane is hoping to make a name for himself on the Floyd Mayweather undercard
Ashley Theophane is looking to join the big names in the welterweight division when he takes on Pablo Cesar Cano.
Last Updated: 20/08/13 1:03pm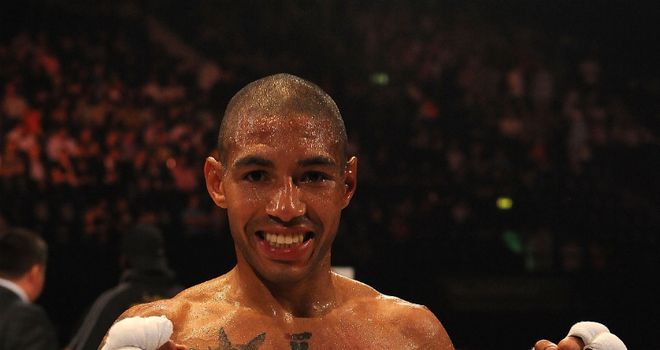 The fight is one of four to be televised on Showtime's huge PPV show in Las Vegas, headlined by Floyd Mayweather's latest fight against Saul Alvarez.
Theophane has boxed all over the world, sparring many of the sport's big names, but despite going-on 33 still harbours world title ambitions.
He will have a chance to put those credentials to the test against the Mexican, who has lost narrow decisions to Paul Malignaggi and Shane Mosley in his last two fights.
"He's fought Erik Morales. He's fought Paulie Malignaggi. He's fought Johan Perez, Shane Mosley," said Theophane.
"He is a very tough operator, and I'm going to be in great shape, but to me every time he steps up is when he's lost, and to me this is another step up, and he's going to lose again, but I respect him.
"I didn't fly over here from London, England to take a loss, that's not even on my mind. I'm training with the best in the world. I've got a great training team, and we're going to be ready for 'The One' and it's an honour to be on the show.
"It's just all about taking it to the next level and Pablo is a great step in the right direction so I want to thank everyone."
Experience
Theophane turned pro in 2003 and has a record of 33-5-1, overcoming early setbacks to win the British title and defend it twice before losing to Darren Hamilton.
But he believes the best is still ahead of him. "I'm not worried about the age. I'm 32-years-old. I'm going to be 33 but if you look at the guys who Pablo lost to he lost to guys who were in their 30s so...youth is good but experience at the same time - you can't buy experience and that's what I've got.
"I'm a smart fighter. I'm a strong fighter. I've been in with like some good boxers. I still feel good. I haven't been in many hard fights because I'm a smart boxer and I have a good defence.
"The age doesn't play a role - I eat well, I don't smoke, I don't drink. You don't see me out in the clubs so the age is not an issue. Well, I've been a pro for 10 years. I'm happy to be a professional for another five years so I'm cool."