New IBF middleweight champion Darren Barker sends out warning to Felix Sturm
Darren Barker has told Felix Sturm to forget about taking his world title as he targets a triumphant homecoming fight.
By Richard Damerell
Last Updated: 21/08/13 7:32pm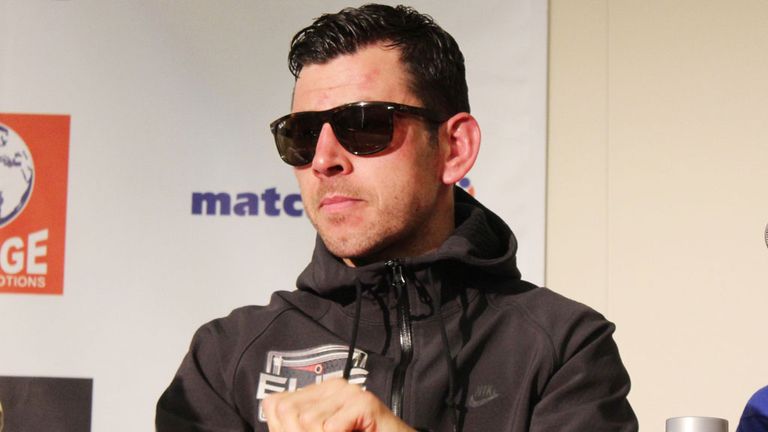 Barker was crowned as the new IBF middleweight champion on Saturday after a courageous points victory over Daniel Geale in Atlantic City and his first defence is expected to be against mandatory challenger Sturm.
The German has already ruined the world title hopes of two fighters from these shores as he held Martin Murray to a draw and claimed a contentious points win over Matthew Macklin during his reign as WBA champion.
Barker hopes to face Sturm in front of his own fans in London and is confident he can defeat the man from Cologne after studying footage of his defeat by Geale last year.
"He's a good fighter Felix Sturm, but I think his best days were when he lost to Oscar De La Hoya," said the Barnet man, speaking exclusively to Sky Sports.
"He won't be as lucky as he was against the other two. I'm looking forward to getting in there with him. Like I say, he's a good fighter, but I'll definitely be beating him.
"Watching Daniel Geale, I saw a lot of the Felix Sturm fight and Geale just outhustled him and outworked him. He's not that exceptional on his feet, so you can do your work and move. I know what I have to do to beat him and it will be a massive fight here in England.
"I'm with the best promoter in the country and he puts on huge shows does Eddie Hearn. It will be a great occasion. Defending my world title in London would be another dream come true and I'm hoping it will happen."
Tough
Barker had considered retirement after a string of injuries and concerns were raised about whether he was physically and mentally tough enough to win a world title.
But the 31-year-old believes he has silenced his doubters after hauling himself off the canvas in the sixth round following a brutal body shot from Geale.
"That nine seconds seemed like an eternity," he said. "So many thoughts came through my head.
"I did think about the tough times and what I'd had to pull myself through. I kept reminding myself it was only a body shot, telling myself: 'get up, get up, you're better than this!' Somehow I managed to get up and I'm so glad I did. I was in bits.
"I've always had question marks over my stamina and my toughness. Everyone says I don't have that real grit and determination to go on and win a world title, so I really wanted to prove to everybody and myself that I've got it in me to tough it out when I need to. I'm proud in that sense as well."
The Commonwealth Games gold medallist has built up a reputation as a classy boxer, with polished ring skills, but he was happy to stand and trade with Geale during their gruelling battle.
Barker admits he was consumed by his burning desire for victory and abandoned his pre-fight tactics.
"I think it was me wanting to win so much," he said. "When you are travelling to fight for a world title on the other guy's show you've got to win the fight, and my desire and my will to win made me fight that way.
"I had to go and win the title. I had to grab it off him. I think at times that made me throw my game plan out the window a bit. Because our game plan was to stick to our boxing, attack when need be, instead of attacking all the time, but I think that was just my will to win. I really wanted to win badly."
Friend
Barker was not the only success story at the weekend as trainer Tony Sims guided his first fighter to a world title.
Sims has forged a close bond with Barker over the years and the victory was a fitting reward after the pair helped each other through some tough times.
Barker said: "Me and Tony have been to hell and back. He's had to put up with me.
"He's not only my trainer, he's a great friend. It's not just me winning this world title, I've done it for loads of people.
"My friends, my family, my brother and Tony is another person I have done it for because he's worked just as hard as I have.
"He does a lot, training me, getting me in fantastic condition, but as a friend he's put up with me because I'm a pain sometimes. He's a top man and deserves all the success as well."