Scott Cardle will return to action on the big Glasgow show next week
Scott Cardle will return to action on Saturday week when he takes on Gary Fox on the big Glasgow show.
Last Updated: 31/08/13 12:05pm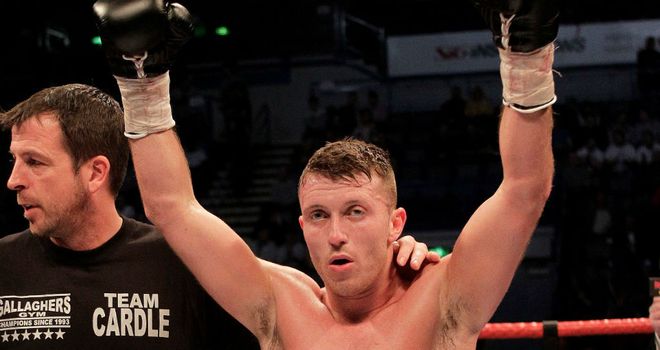 The Central Area lightweight champion will look to add the Northern Area strap to his collection when he clashes with Fishburn's Fox (11-1).
Cardle had a busy start to his professional career but has been sidelined since beating Maxi Hughes in Blackpool in April, when he suffered a cut by the right eye.
"There was talk about the fight being an official eliminator for the English title," said Cardle. "That isn't happening but it is still a good step towards the English title for whoever wins.
"Kirk Goodings and Paul Truscott are fighting for an eliminator for the English so it could be between the winner of that fight and this fight to go for the English.
"It is a very big division, a very competitive division. The English title is around the corner for me and I think the British is near enough as well. I want to start mixing it with the domestic greats.
"I know enough about Gary Fox, I have seen some YouTube clips and I think I have learnt enough to beat him. I cannot take him too lightly because he has a great record and it is a step up for me again and I am expecting the best Gary Fox to come out on the night so I am looking forward to it.
"This fight is a big thing for me because as a pro it is my first fight in Glasgow. Glasgow is where all my family are from, so it is going to be a very big night for me with all my family and friends from Glasgow coming and I am looking forward to them seeing me put on a good show.
"I have always been a Lytham lad, I was born and raised there and I have lived there since the day that I was born. But all my family on both sides are from Glasgow and that is my blood so it is a big thing for me to fight in Glasgow.
"I have always wanted to fight in Glasgow because I know what kind of atmosphere the fans bring and as well as that my family are all from Glasgow, so I am really looking forward to it."
The show is stacked with Scottish fighters with Paul Appleby, Stephen Simmons, Jon Slowey, Michael Roberts and David Brophy all performing in front of their home crowd.
Prizefighter champion Scott Jenkins and promising super-middleweight Callum Smith are also expected to be in action.