Floyd Mayweather has suggested a fight in the UK is not out of the question
Floyd Mayweather has again expressed his desire to fight in England if he defeats Saul Alvarez on September 14th.
Last Updated: 05/09/13 6:38am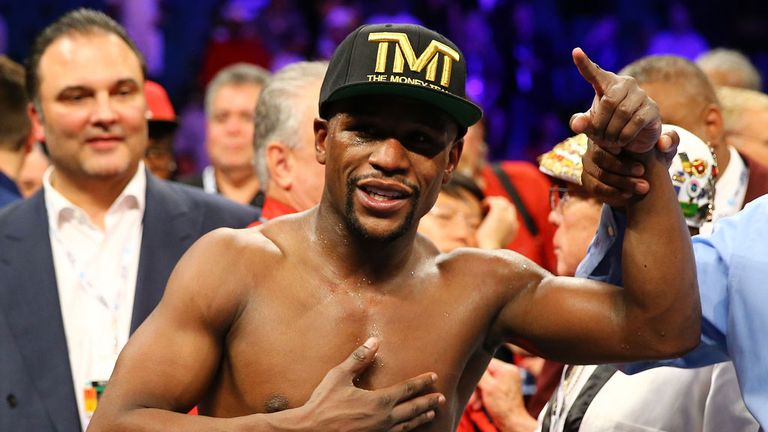 Mayweather puts his 44-fight unbeaten record on the line against the exciting young Mexican and victory will enhance his reputation as the top fighter in the sport.
The American superstar has spoken before about a possible bout in London and has fresh ties with this country after Ashley Theophane, the former British light-welterweight champion, joined Mayweather Promotions.
Amir Khan would appear a likely foe for Floyd if he gets past his planned clash with Devon Alexander later this year and Mayweather has fuelled speculation about a future fight.
Speaking to the Sky Sports Toe 2 Toe podcast, Mayweather said: "Anything is possible, we just signed a fighter from London. He's unbelievable.
"He's been helping me, actually we've been boxing a little bit. He's tough, he's a tough competitor.
"Mayweather Promotions is looking to do a show in London after September 14th so we are going to take our roster over to London and set up shop."
Ingredients
Saul Alvarez is yet to suffer a defeat himself and some pundits have suggested that Mayweather is facing his toughest test in recent years.
But the 36-year-old multi-weight champion played down any suggestions that Alvarez will pose new problems to him.
"I can't say as of right now, but you know I'm never worried about no fighter," he said.
"My job is to be Floyd Mayweather, be smart, listen and you know 44 said they had the ingredients, they had the remedy on how to beat Floyd Mayweather.
"We're yet to see that so we'll have to see how the fight plays out on September 14th."