Billy Nelson expects Ricky Burns to cement his position as the best Scottish boxer ever
Trainer Billy Nelson was singing Ricky Burns' praises ahead of his title defence against Raymundo Beltran on Saturday.
Last Updated: 07/09/13 8:09pm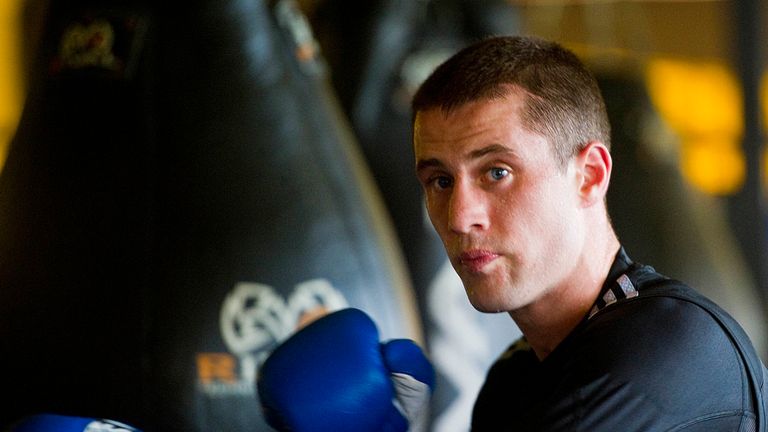 Nelson backed up promoter Eddie Hearn's claim at Wednesday's press conference that Burns had surpassed Ken Buchanan and Jim Watt as Scotland's best ever fighter.
But he warned that to remain at the top, international sparring partners would have to be brought in.
"He is the best fighter Scotland has ever had and he has still got plenty years to go," said Nelson. "He will unify titles and hopefully win a third world title at light-welterweight.
"He is a two-weight world champion, undefeated in his last 21 fights. He is very humble and someone has to speak up for him. And that will be me, because I see him on a daily basis.
"I know how good he is. I see what he does to quality, quality sparring partners on a daily basis. And they are not enjoying it.
"In fact, probably for the next fight we are going to have to bring in American and European sparring partners because we are running out of British opponents.
"We can't have mediocre sparring partners. It has got to be top guys because not only do you need to get yourself sharp physically for the fight, you have got to be mentally sharp as well.
"There is no point bringing in people that Ricky can just bash about a boxing ring. We bring in quality and that gets him properly prepared for a 12-round fight like we are going to get on Saturday against Raymundo Beltran."
Nelson insists Beltran will be despatched as Burns looks to impress after his last outing against Jose Gonzalez.
"There are specific things we are going to do in the fight but if Raymundo wants to get involved in a toe-to-toe, we will happily accommodate that," he added.
"But the fundamental thing is going to be Ricky's speed. Lightning speed. Absolutely lightning. On occasions on the pads this week it has just been a blur that's been hitting the pad."
Follow all the action from the SECC on Saturday night with our live interactive commentary from 7pm.