Eddie Hearn believes Ricky Burns will make a statement against Ray Beltran on Saturday
Promoter Eddie Hearn believes Ricky Burns is finally getting the recognition he deserves.
Last Updated: 09/09/13 3:28pm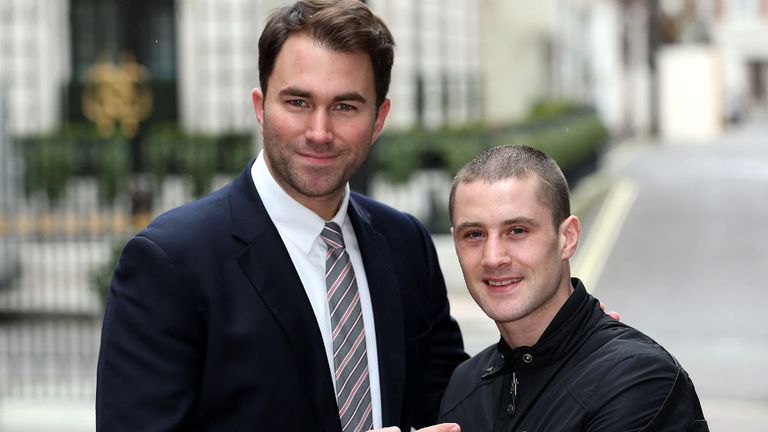 The Scot is yet to gain country-wide or international acclaim despite a run of eight successful world title fights.
However, that could all change against Raymundo Beltran on Saturday night, who has been in with some of the toughest men in the lightweight division.
"He's starting to (gain recognition)," Hearn told Sky Sports. "I think this is his ninth world title fight. If you look at the run he's had, winning the title against Paulus Moses, beat Michael Katsidis, beat Kevin Mitchell, and a very good Gonzalez.
"And now he's fighting Beltran, who I believe outside the world champions is the toughest fight in the lightweight division for Ricky Burns.
"I put Burns almost on a par with Carl Froch, a two-weight world champion and starting to get the recognition he deserves, he packs out arenas up here, he where's his heart on his sleeve and has an all-action style that people want to watch."
Commitment
Burns nearly threw it all away against Jose Gonzalez last time out, when a nine-month absence from the ring and a quality challenger almost upset the applecart.
"I do think he was over-trained," Hearn added. "Gonzalez was very awkward and a very goods fighter. But Ricky showed heart, commitment and walked Gonzalez down and made him quit on his stool, which is very impressive.
"That seventh round was something else. Ricky looked out of the game and then fought back, and I think that was what broke Gonzalez's heart.
"You've got to be versatile to be a great fighter and I think that's what Ricky's got, he's a good technician, he can fight and he's got plenty of heart.
"Sometimes you have to win ugly and that's what he did against Gonzalez. Against Beltran this is his opportunity to make a real statement and I think Ricky's looking to do that on Saturday."
Follow all the action from the SECC on Saturday night with our live interactive commentary from 7pm.