Chris Arreola knows another defeat could spell the end of his career
Chris Arreola admits it could be the end if he loses to Seth Mitchell in their WBC international heavyweight clash
Last Updated: 05/09/13 11:46am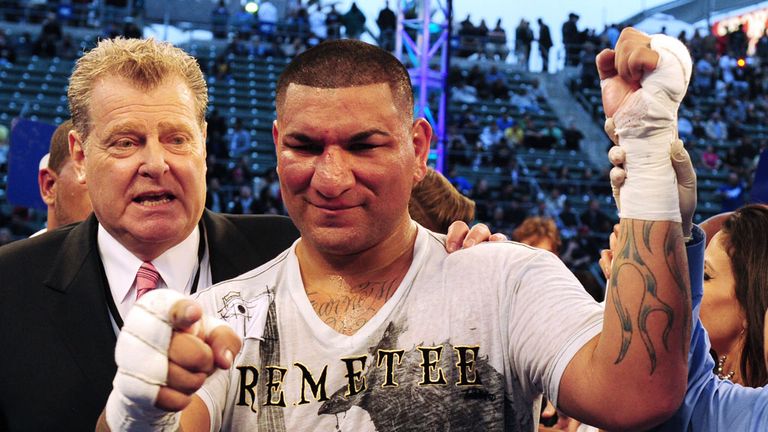 Arreola (35-3) lost his unbeaten record when he was stopped by Vitali Klitschko in 2009, but despite seeing his stock rise with that performance his career has since stood still.
Defeat earlier this year to Bermane Stiverne in a WBC eliminator was a big setback and the 32-year-old knows he cannot afford to slip up again.
"This is a must-win fight,'' said the WBC's No 3 contender. "I respect his conditioning and his determination to be somebody. Mitchell was a good football player, but I've been in this game too long to lose to somebody like that.
"If I lose to some guy like Seth Mitchell I would seriously contemplate retirement. I'm not a gatekeeper and I never want be that guy you beat so my name looks good on your resume. I'm not that kind of a fighter. I'm a world-class athlete, a world-class boxer."
Focused
Some would question that assertion, with Arreola notorious for being a poor trainer and struggling with weight issues in recent years. However, he insists he has turned over a new leaf.
"It took me until I was 32 but I've finally grown up a little," he added. "For once, I'm doing what it takes to give myself the best chance to win. I've always been my own worst enemy, but this time it's not like that. I've got to make sure I walk the walk, and that everything I say I'm going to do happens.
"I've always been my own biggest problem, my own worst enemy. I can't blame anybody else. I work my butt off once I'm in the gym, but getting to the gym wasn't always automatic. I'd always come up with excuses for not going.
"So relocating (to Phoenix) paid off. I put in the time. I did my training camp the way I've always supposed to be doing it. All I did was concentrate on boxing.''
Mitchell (26-1-1) avenged his stoppage loss to Johnathan Banks in June but he too knows another defeat would signal the end of his world title ambitions.
"It's a do-or-die fight," said the 31-year-old American. "I don't mean that if you lose this fight, your career is over. But it is a huge, huge setback. I've gotten tremendously better over the last 15 months and I just want to show that.
"This sport is so unforgiving you have to be a quick learner. If I want to stay where I'm at, I have to continue to learn and continue to win. I had to win the second Banks fight to show I've improved from fight to fight.
"When the stakes are this high, it's a high-risk, high-reward situation. Some people look at this as a cash-out fight for me. I look at it as a cash-in fight.
"We're just focused on Arreola. I'm expecting the best Arreola, and we'll see what happens from there.''