Oscar De La Hoya is backing Saul Alvarez to beat Floyd Mayweather on September 14
Oscar De La Hoya has reiterated his stance that Saul Alvarez will become the first man to beat Floyd Mayweather.
Last Updated: 05/09/13 5:53pm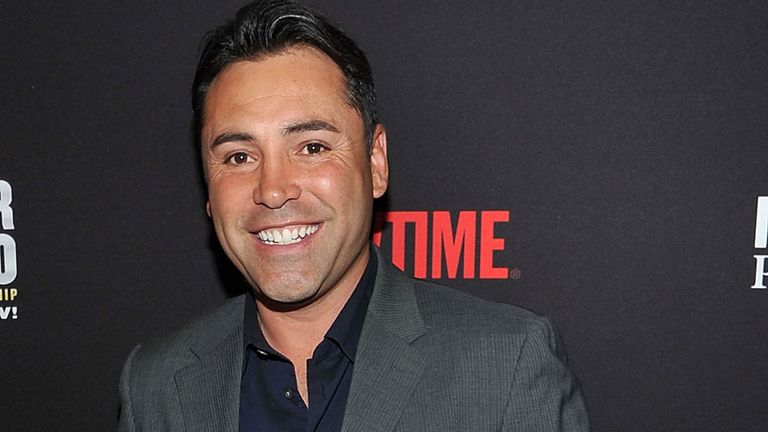 The head of Golden Boy Promotions, who lost a narrow points decision to Mayweather in 2007, believes the time is right for 'Canelo' to usurp his opponent at the top of boxing's tree.
Alvarez, like Mayweather, remains unbeaten in 46 contests but remarkably is 13 years younger than the five-weight champion, and it is this blend of youth and experience that De La Hoya believes can make the difference.
"I know why it's caught on so big," he said of the fight that could challenge the box office record of his own fight with Mayweather. "It is because people have hope and people strongly feel that Mayweather is going to get beat.
"You know that's why I feel this fight is catching fire. You have a young guy in Saul who is like a seasoned veteran. He knows what he's doing. He's a fighter that has a game plan that is in the best shape of his life.
"I can see it and I can envision that because I know what he's capable of. I understand his potential and he hasn't shown not one bit of what he's capable of.
"I strongly feel that September 14th we are going to see the younger Canelo Alvarez who is going to be fast, who is going to be strong, as we know, but who is going to be smart.
"He's the whole package and he hasn't put it all together because he hasn't fought Floyd Mayweather, who is the best pound-for-pound fighter in the world. Floyd Mayweather will bring out the best in Canelo Alvarez."
The fight has been made a catchweight of 152lb, two pounds under the light-middleweight limit at which 'Canelo' is WBC champion, but De La Hoya does not believe that will be an issue for Alvarez.
"There is a penalty but, obviously, Canelo is going to have no problem making the weight whatsoever," he said. "He made 153 against Austin Trout with no problem, so Canelo is going to have no problem whatsoever."