Tyson Fury confident hard work will pay off against David Haye
Tyson Fury believes his tough training camp in Belgium will reap dividends when he faces David Haye on September 28.
Last Updated: 10/09/13 8:38pm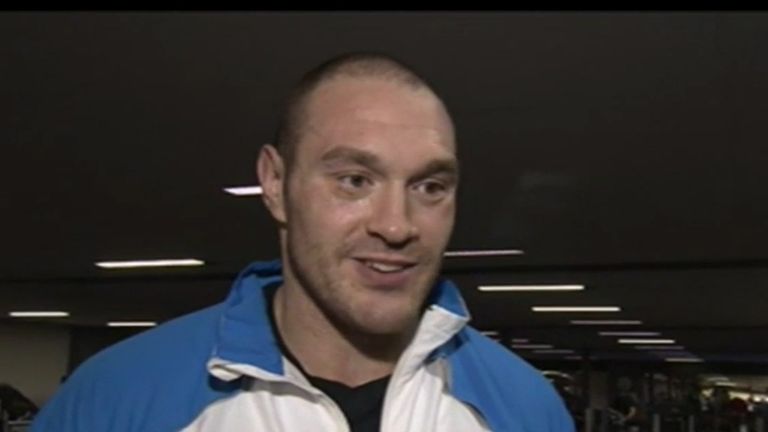 Fury has left his family and friends behind in Britain as he undergoes a rigorous training regime for his heavyweight clash with David Haye, on September 28th, live on Sky Box Office.
The 25-year-old has displayed a new-found dedication to the sport under the watchful eye of trainer Peter Fury and has been sharpening his ring skills for the past two months in Essen.
Fury is facing the biggest test of his boxing career, but is confident the long weeks of preparation will ensure he is physically and mentally ready for Haye.
"All the boxing and all the training is going to pay off," he told Sky Sports News. "Every sacrifice that we've all made to be here and put this camp on, we are going to get rewarded for it on September 28th. Winning this fight means the world to me.
"It's just about taking your time and not rushing things, just focusing on what you're doing. I can get lackadaisical sometimes and just walk onto shots. You're not allowed to do that, especially in heavyweight boxing.
"But Haye can think what he wants really. There's only going to be one winner on the night and that's me."
Former opponent Steve Cunningham has flown out to Belgium to help Fury with his sparring and they have been joined by fellow American Eddie Chambers.
'Fast Eddie', a former world title challenger, feels that Fury has tightened up his defensive skills in the last few weeks.
"Actually I'm impressed, not so much with the power, because of course being big you're going to have power," he said.
"But I'm more impressed with the movement, being a little elusive, and how he goes back and is able to get his arms out."
Peter Fury insists he is ordering the sparring partners not to hold back as Fury closes in on a potentially explosive battle against Haye.
When asked about his instructions, Fury said: "Get in there and knock his head off. This is not a joke.
"It's a sport and if they want to help Tyson, they've got to go full at it. If I don't see them going full at it, in between rounds I'll call them over and tell them to do more."
Cunningham floored Fury heavily in his last fight and the heavy-hitting Haye has vowed to finish off Fury in a firefight.
But Fury has warned his rival to expect an explosive response if he does manage to hurt him.
"Hitting me and hurting me is like tipping petrol on a fire. I'm just going to ignite and get bigger and stronger," he said.