Tyson Fury ready to show his heart against rival David Haye
Tyson Fury insists his burning desire for victory will prove crucial in this month's heavyweight clash with David Haye.
Last Updated: 13/09/13 8:31am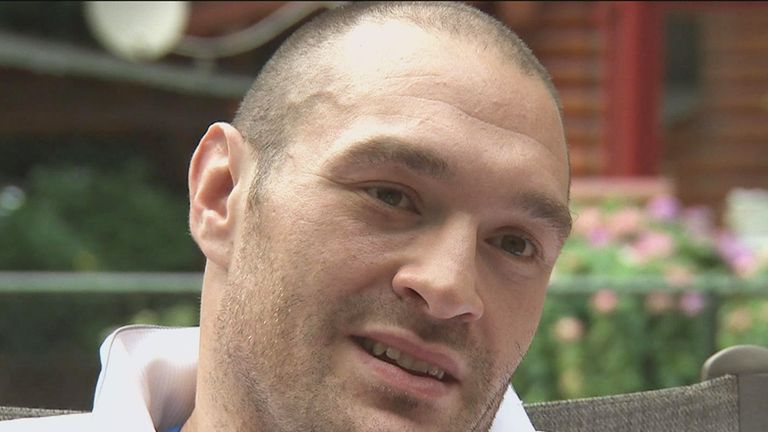 Fury has pushed himself to the limit in his Belgium training base as he prepares for the Haye fight on September 28th, live on Sky Box Office.
The 25-year-old knows he must be in peak condition for the biggest test of his 21-fight career, but expects the fight to become a battle of wills.
Fury has fought back from the brink of defeat in his unbeaten career and believes the fighter with the most heart will emerge victorious.
He told Sky Sports News: "It is a lonely place because no matter how big your team is or your entourage, or how many fans have come to support you. It's only you and him in the ring on the night.
"It's all about will at the end of the day. When all the skills are finished, when you are tired and when all the stamina is gone and everything, it comes down to how much you want it in here.
"He's nothing special, he hasn't got 16 arms or three heads or whatever. He's just a normal man with a pair of gloves on, made of blood and bones. I don't fear him one per cent."
Fury's camp is based in the quiet town of Essen and the serene surroundings have allowed him to focus on the task in front of him.
He has missed his young family but recognises the importance of such a stringent training regime.
"If one man's prepared five per cent better than the next man, it can make a difference in a close boxing fight," said Fury.
"Being out here is very tranquil, very quiet. Just nothing else to do, just eat, train and sleep and go for a walk in the forest, if you're into that sort of thing.
"When you go back after being away for ten weeks they've learned a whole lot of stuff that you have missed out on, but it's part of my job. Bills have got to be paid and things have got to happen so sacrifices must be made."
Haye is a former two-weight world champion who is accustomed to the spotlight, but Fury is short of big fight experience.
He fully admits the prospect of freezing in front of the cameras is more of a worry than facing Haye in the ring.
"If I pray for help, I always pray that both fighters turn up and give the best performance they can give. I would hate to think about me going in there and giving a terrible performance and blame it on that.
"But that's always my biggest fear, not performing to my abilities."