Boxing community unites to pay tribute to Dean Powell
The boxing community has paid tribute to cornerman, trainer and boxing manager Dean Powell after his death on Tuesday
Last Updated: 11/09/13 6:17pm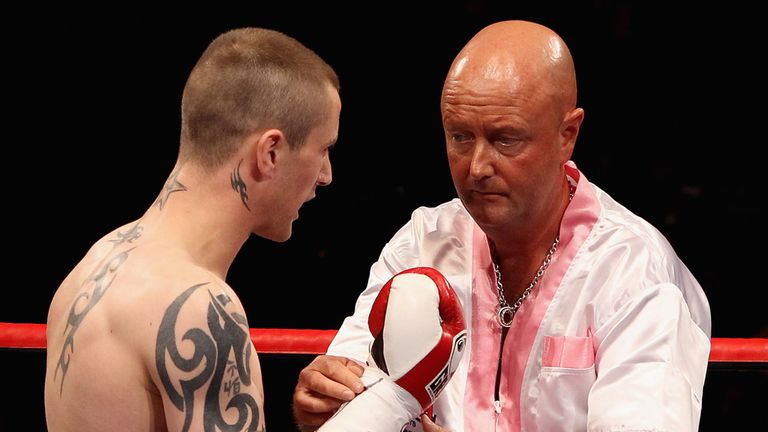 Powell, 46, had been involved in the sport for over 25 years and his most recent role had been as a matchmaker for promoter Frank Warren.
He had worked with some of the finest boxers in the UK during that time including Lennox Lewis, Joe Calzaghe, Amir Khan, Nigel Benn and Naseem Hamed.
A regular fixture at all of Frank Warren's shows, Powell had also worked with the likes of Frank Maloney, Terry Lawless, Micky Duff and Mike Barrett.
A statement released on Frank Warren's Queensbury Promotions website read:
"All of us are deeply saddened and shocked by the loss of our very close friend and colleague, Dean Powell. Dean was a valued and popular member of our team and within the sport of boxing and our thoughts and prayers are with his family and loved ones for their tragic loss."
Warren later tweeted: "Dean Powell was the friendliest and most lovely guy in boxing. He always had time for everyone he met. RIP to a dear friend to all of us."
Other boxers, past and present, also took to Twitter to pay tribute to Powell.
Frank Bruno wrote: "Saddened to hear of the passing of matchmaker Dean Powell he helped me through my boxing career my thoughts with his family."
Amir Khan wrote: "Sorry to hear the loss of Dean Powell. My thoughts and prayers go out to his family."
Barry McGuigan wrote: "Shocking news about Dean Powell, God rest his soul. RIP."
Joe Calzaghe wrote: "Shocked and devastated to hear about the passing of Dean Powell. A sad loss to British boxing. RIP."
Nathan Cleverley's team wrote: "Everyone at Team Clev is heartbroken by the loss of our great friend, Dean Powell." #RIPDean