Oscar de la Hoya asked Golden Boy's Richard Schaefer to send him to rehab
Golden Boy promotions chief executive Richard Schaefer says Oscar de la Hoya asked him to return to rehab this week.
Last Updated: 12/09/13 12:13pm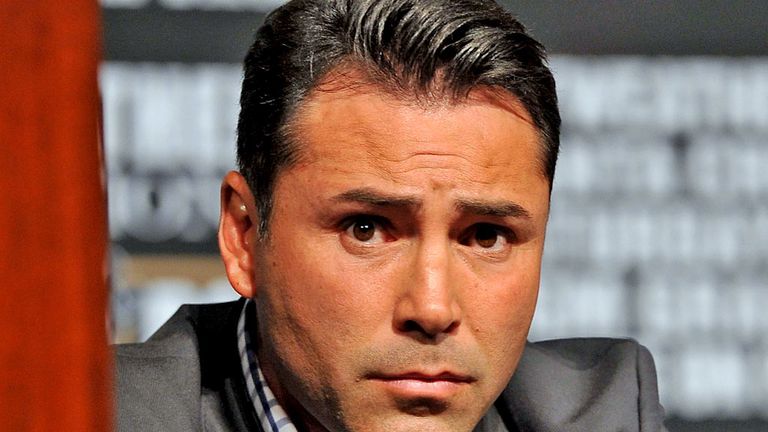 Promoter de la Hoya will miss the light-middleweight unification fight in Las Vegas he helped to co-promote, after returning to a treatment facilty to deal with his unspecified substance abuse. Schaefer told Sky Sports News the American had to take time out to deal with his demons.
Schaefer said: "He actually called me on Monday afternoon and sounded terrible. He told me he needed help, that he can't go on. I put him in touch with the proper people and they helped him get into a rehab facility for substance abuse.
"Obviously the timing isn't good during the biggest fight week in the history of boxing the way it is shaping up but, you know, when you have an illness it's not like you can choose the timing and say I'm not going to go today, I'm going to go next Monday. When you need help you need help and of course I'm supportive of that because health and life and family comes before everything else.
"As so Oscar is, as we speak, in a treatment facility in California. How long he's going to be there I don't know but I sure hope on behalf of myself and the Golden Boy team and the Mayweather team and fight fans around the world that he gets the help he needs."
Swiss Schaefer was relishing Saturday night's 152-pound fight, predicting it would eclipse the 2.44 million record pay-per-view sales and sales of more than $130 million racked up by the Mayweather's meeting with de la Hoya in 2007.
Warning
He warned the world's highest paid athlete 'Money' Mayweather though that red 'Canelo' Alvarez could not be underestimated.
Schaefer added: "(He was) born and raised in Guadalajara, Mexico, 23 years young. He has had almost as many fights as Mayweather, even at his young age. Forty-two wins, no loses. He started boxing at a young age in Mexico.
"He's really developed amazingly when you think back on (his victory over) Carlos Baldomir, a former world world champion, a fighter Floyd Mayweather has fought as well. He can bang with the puncher (and) has shown his skills against 'Sugar' Shane Mosley.
"When you ask Mosley what surprised him most about Alvarez it was his speed. He out-speeded a speedster. He can outbox the boxer, out-speed the speedster and out-punch the puncher and adapt to any style."