Heavyweight Dereck Chisora said Dean Powell was a man 'everybody loved'
Dereck Chisora has paid tribute to Dean Powell following the boxing manager's sudden death earlier this week.
By Dev Trehan
Last Updated: 13/09/13 3:17pm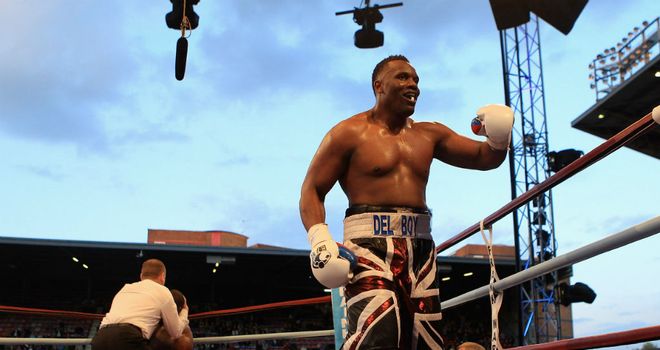 Powell, a regular fixture in Chisora's corner, had worked with some of the most iconic British fighters in recent times including Naseem Hamed, Joe Calzaghe and Ricky Burns during his 25-year career in boxing.
Chisora is unsurprised the death of the well-liked Powell has prompted an outpouring of emotion from members of the boxing fraternity across the globe.
"This has been a sad, sad, sad week for me - I lost one of my close friends," said Chisora.
"The last time I saw him was on Monday when we were talking about the gameplan for this fight and then that was the last time I saw him but wherever he is - 'I love you man and I'll see you soon.'
"He will be missed in the boxing world because the guy knew boxing - if you asked him a question about any fighter he would tell you and people all over the world loved him.
"People in America loved him. Everybody loved him."
Driving force
The Finchley fighter is preparing to take on German heavyweight Edmund Gerber next weekend for the vacant European title.
He will once again wear the Union Jack shorts he has become synonymous with and Chisora revealed Powell was the driving force behind the outfit that fans have been accustomed to seeing him in.
"Dean Powell is the man who put me in the Union Jack" said Chisora. "The whole story of Dereck Chisora in the Union Jack is because of Dean Powell.
"When I met him in a restaurant when I was signing contracts with him he said 'I am going to dress you in a Union Jack.'
"We done it [together] and right here this is who I am and when every big fight came up he put my name there first.
"I thank him for him that and everything so god bless him for what he did - he was amazing."