Derry Mathews confident he will outclass Curtis Woodhouse
Derry Mathews believes Curtis Woodhouse will be out of his depth in Saturday's Commonwealth title clash.
Last Updated: 17/09/13 12:59pm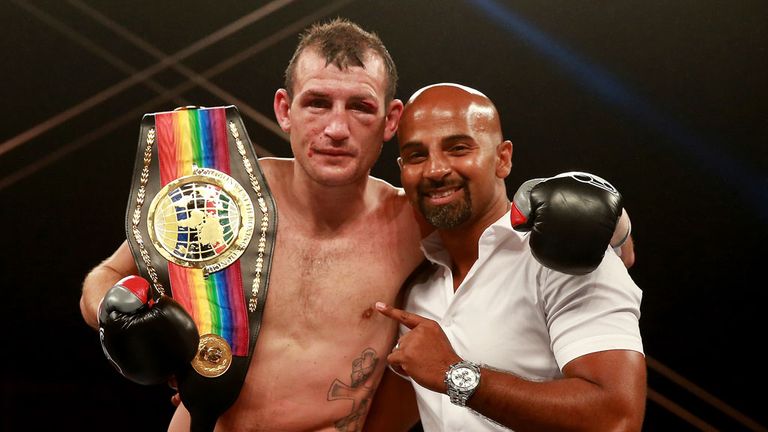 Mathews makes the first defence of his title against the dangerous Woodhouse in front of his hometown fans at Liverpool Olympia, live on Sky Sports.
The 33-year-old Merseysider has plenty of title fight experience, while Woodhouse, a former Sheffield United footballer, is targeting his first major belt.
Mathews has branded the bout as a 'cup final' for Woodhouse and insists the challenger will be out of his depth.
"Curtis is a strong man with unbelievable desire but he's swimming in the deep end now," said Mathews.
"He's going to find out the hard way that championship class is a million miles away from anything that he's used to.
"I've beaten guys who I know would do a good job on Curtis and that's because I'm a fighter who has been fighting at title level for the majority of my career.
"I've won titles at all different kind of levels against guys who have competed at the very top of the game so this is like a cup final for Curtis. I admire him so much for what he's done but this is going to end horribly for him."
Woodhouse has campaigned in higher weight divisions and is confident he can handle Mathews' punch power.
The Yorkshireman has 13 knockouts in his 19 wins and believes he can silence his rival's support with another stoppage victory.
"I'm a big lightweight, make no mistake about it, I'm huge for the weight," said Woodhouse.
"I've been up at welterweight and light-welter against big strong guys who can certainly be considered punchers and I've held my own with them.
"Although Derry is a class act who's got a good record at lightweight, I'm one million per cent confident that I'm getting in there and knocking him out and that's my honest belief.
"This isn't fighting talk for the sake it, I really believe that I'm getting in there in front of his home fans and knocking him out."