Dave Coldwell is already feeling nervous ahead of Derry Mathews v Curtis Woodhouse
Promoter Dave Coldwell will see loyalties divided on Saturday night when Derry Mathews takes on Curtis Woodhouse.
Last Updated: 21/09/13 11:45pm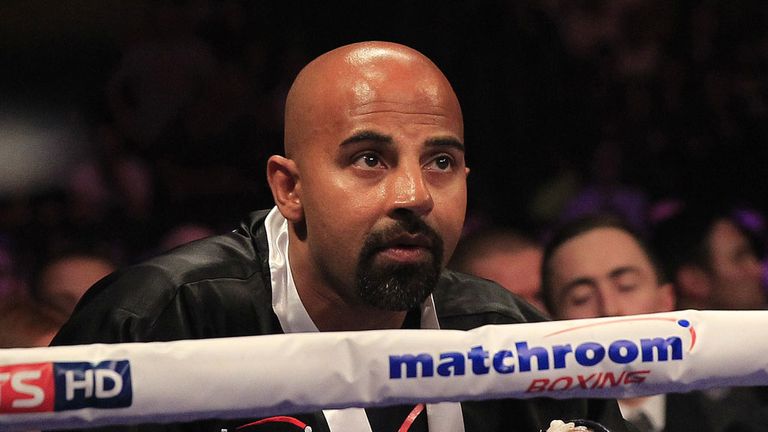 Coldwell is not only responsible for both fighters but has also built long-term friendships with the pair.
The Rotherham-based promoter has guided ex-footballer Woodhouse throughout his career in the ring and he also goes back a long way with Mathews, who makes the first defence of his Commonwealth title at the Olympia.
And Coldwell told Sky Sports he was already getting nervous ahead of the fight, which promises to be special - while it lasts.
"I woke up with butterflies this morning and it's starting to kick in now," said at Thursday's press conference.
"It's been a long road with Curtis, getting him away from the stigma of being an ex-footballer. I do think now people see him as a boxer that used to play football.
"It's really hard for me, I'm an emotional kid. I find it hard to sit there and watch a fight without screaming and shouting.
"I've been mates with Derry for years, I signed him for Hayemaker and for Coldwell Boxing and it's going to be very difficult. I don't know what I'm going to do.
"They both give as good as they get out of the ring and it's been a draw so far. But I think there will be a big winner on the night."
Power
Woodhouse has spent the majority of his career at light-welterweight and higher and only recently decided to move down to lightweight, to the surprise of his promoter.
"At the start I said don't do it, but he's got a nutritionist on board and for his last fight he was 9st 10-and-a-half. His check weights have been great, so I don't think it's going to be an issue, but then again you just don't know."
Both Mathews and Woodhouse are renowned for being in entertaining fights, and Coldwell anticipates more of the same action.
"Derry's a big puncher at lightweight and super-feather but Curtis is a big puncher at any weight, you can't underestimate his punching power and if he lands on the button he will knock Derry out," he added.
"Either might knock the other one out. I'll be surprised if Derry stands there and fights from the start, I think he will try and box him, at least early on.
"Tommy Coyle came out to box him but Curtis won't do that at all. If Derry had bounced off the floor a few times in that fight he'd be a little bit nervous but he got out-boxed and then he caught him.
"That performance won't have affected his confidence."
Follow all the action from Liverpool's Olympia on Saturday night with our interactive text commentary from 7pm.