Curtis Woodhouse has vowed to stop Derry Mathews in Liverpool on Saturday night
Curtis Woodhouse has promised to switch Derry Mathews' lights off when the pair clash in Liverpool on Saturday night.
Last Updated: 21/09/13 11:44pm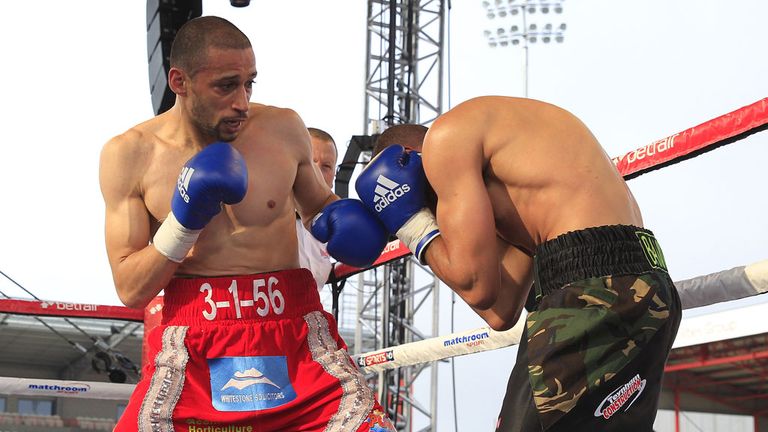 The 33-year-old has made the successful transition from footballer to boxer and faces the biggest night of his career when he takes on Commonwealth champion Mathews in his back yard at the Olympia.
However, Woodhouse believes he has what it takes to win the lightweight title in a fight that is widely expected to be an all-out war.
"Sometimes you get cut or hurt your hands in sparring but I've come through unscathed this time," he told Sky Sports at a lively press conference on Friday. "I feel really good and I just want to get my hands on him.
"We sparred about 20 rounds before he fought Anthony Crolla, every round was a war and I expect this fight to be the same.
"I'd love to able to repeat what Tommy Coyle did but I can't fight that way, it ain't happening. I'm coming to fight, and if he says he's going to hold the centre of the ring that's brilliant for me.
"Everyone who stands in front of me has been knocked out pretty quick, fingers crossed I hope he does do that."
Woodhouse's second career has not been without its ups and downs - he was knocked out cold by Dale Miles and was then on the wrong end of a dubious decision against Shayne Singleton.
However, it is those setbacks that have made him the fighter he is today.
"When it first happens it's heart-breaking, but you look back and learns lessons," he added. "It's about learning from the experience and not letting it break you. Boxing's a tough game and you will have lots of setbacks."
Knowledge
The Driffield man has campaigned largely in higher weight classes but insists he will have little problem in making the weight on Friday.
"When I defended my English title I was 9st 13 - under the limit - two weeks before the fight," he said. "That's when I thought I could make lightweight. I got a dietician on board and changed a few things around, and making lightweight it easier than making light-welter.
"I was only 3lb over the weight three days ago, knowledge is power and when you get someone who knows what they're doing, it helps.
"I'd love to say it's just another fight but that would be a lie. There's extra buzz and pressure at fighting in front of a wider audience, the rewards are bigger but if it goes wrong it's also bigger.
"I've been a professional athlete for 15 years so I'm used to pressure situations and this is another one that I'll have to deal with."
Woodhouse is now known as 'The Trollhunter' after famously tracking down the source of one Twitter follower who was clearly not his biggest fan. Since then, the dissenters are knowhere to be seen.
"The trolls have quietened down and they know if they step out of line I'll be in the car!"
Follow all the action from Liverpool's Olympia on Saturday night with our interactive text commentary from 7pm.