Joe Gallagher believes Callum Smith can drop to middleweight and win a British title
Joe Gallagher believes it is not implausible that all four Smith brothers could hold British titles at the same time.
Last Updated: 23/09/13 3:25pm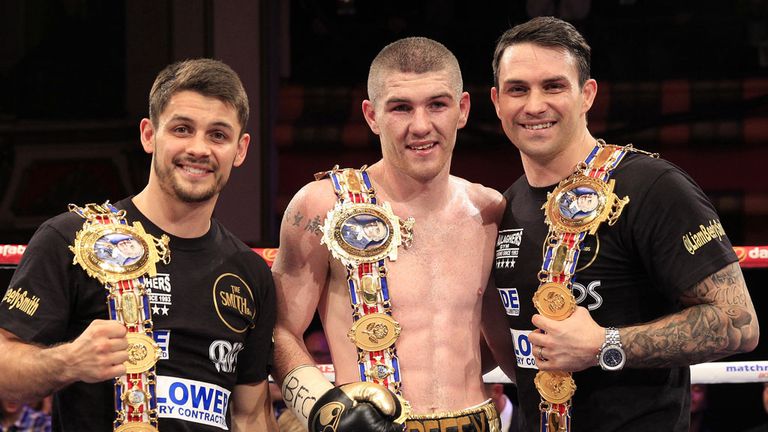 Liam joined older brothers Paul and Stephen as a Lonsdale Belt winner on Saturday night when he defeated Erick Ochieng for the vacant light-middleweight strap.
On the same show in Liverpool, youngest sibling Callum picked up the English belt in just his eighth contest, claiming a sixth successive first round stoppage against Patrick Mendy.
However Callum, whose long-term future surely lies at light-heavyweight, currently campaigns at super-middleweight - the same division as brother Paul.
The elder brother is planning to make one more defence of the belt, against Luke Blackledge, before vacating to potentially pave the way for Callum.
However, the quartet's trainer Gallagher told Sky Sports they are considering dropping to middleweight with the 23-year-old.
Superstar
"Callum is one of the world's hottest prospects after six consecutive first round knockouts and the sky is the limit," he said.
"I thought Mendy would be a distance fight but he did a Tommy Hearns with that long right hand and we have a potential world superstar. We may just have to let him off the leash.
"We'll consider dropping down a division and see what's at middleweight, so it's not totally out of the question (for all four to be champion)."
Liam carried out the gameplan on Saturday night, eventually outworking Ochieng over 12 entertaining sessions, and Gallagher has no doubt he can now move beyond the domestic scene.
"I'd put Liam up for a world title tomorrow," he said. "Carlos Molina won a title in Las Vegas last weekend and I'd have no hesitation in putting Liam up for that.
"Stephen is twice a British champion at different weights and is in the top-10 in the world, while Paul is on his second reign as British champion, and we're looking at a European title shot.
"It's just beginning to sink in, 104 years the Lonsdale Belt has been in existence and it's never been done before. It's an amazing achievement and you've got to enjoy it while it lasts."
Joe Gallagher was talking to Sky Sports Radio - click here to listen.