Tyson Fury keen to make David Haye pay for postponing bout
Tyson Fury remains committed to a clash with David Haye despite being angry at the postponement of their Saturday bout.
Last Updated: 23/09/13 4:17pm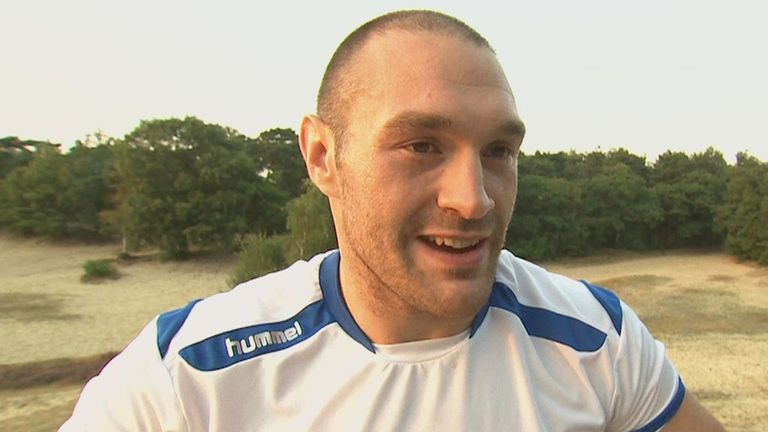 Fury's team are working hard to find an opponent to take on in the next few weeks and the exciting heavyweight hopes to be able to set a new date to take on Haye, most likely early in 2014.
Haye was forced to withdraw from the Saturday fight after being cut in sparring last week, a nasty gash above his eye needing six stitches that meant he would not be able to climb into the ring.
Fury's promoter Mick Hennessy is also keen to find out why Haye was still sparring so close to the fight date, describing suggestions the former WBA heavyweight champion was working without a headguard as 'crazy'.
Hennessy said: "Tyson is in his best shape mentally and physically and he is ready to fight. We are talking with all parties with regard to him fighting again soon.
"In the meantime we are working on re-scheduling the Haye fight as soon as possible. In an ideal situation we would like it to happen in December but realistically we are looking at early next year.
Committed
"Tyson is furious about the whole situation but he is conscious that the fans want this fight and he is committed to it. He wants to knock David Haye out, he has always known he can, and he will.
"Tyson finished his sparring two weeks before the fight for precisely the reason that he was ready and he was not willing to take such a risk with what is a super-fight.
"We are very angry that this has happened seven days away from the fight. The positioning of the cut suggests Haye might have been sparring without a head-guard and if that was the case it is crazy and wrong."
Fury's adviser Asif Vali suggested Haye should also be made responsible for the money lost by his camp for training expenses.
He said: "If Haye was a man of dignity he would pay Tyson's expenses as his first part of the money ahead of the re-arranged bout.
"The sport has got to look at having some kind of compensation system in place for when a fight is cancelled due to a cut or an illness so close to the date - especially a fight of this magnitude.
"Tyson will have to go through the whole process again of preparing for a fight when it was not his fault. We expect some due diligence, and question whether better care should have been taken by David Haye so close to the fight."