Promoter Steve Wood says Tommy Coyle is on the same level as Gavin Rees
VIP promotions chief Steve Wood believes Tommy Coyle is ready to beat former world champion Gavin Rees.
Last Updated: 24/09/13 11:07am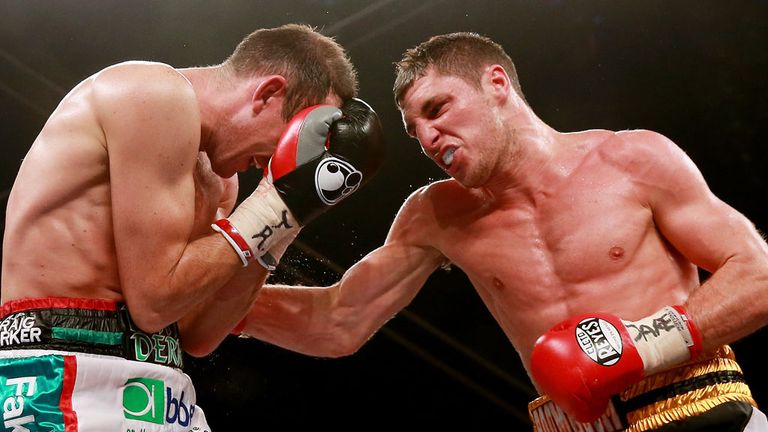 The pair are set to clash in Hull on November 2, live on Sky Sports, with both fighters coming off recent losses.
Rees was on the wrong end of a narrow points defeat to Anthony Crolla in June, while Coyle (15-2) was on the way to beating Derry Mathews before the Liverpudlian ended matters with a left hook.
In a stacked domestic lightweight division there are few easy fights but Wood sees the 23-year-old on a par with the very best in the UK.
"I don't think I'm throwing him in with Gavin," he told Sky Sports. "I think Tommy proved he was in the top domestic class when he fought Derry Mathews.
"At the time it was a step up for him but we knew how good he was and to be honest he won nine out of the 10 rounds.
"If he'd won you'd be saying they are throwing Gavin in with a good kid like Tommy Coyle. I think he's good enough and we're going to keep him at that level.
"We don't know where Gavin's at. I thought he won the fight with Crolla - there definitely wasn't much in it - but it's not a case of catching him on the way down.
"It's more that Tommy's on his way up and he's ready to fight a guy like Gavin Rees."
Mandatory
Wood is also guiding another lightweight prospect in Terry Flannigan, who won a Prizefighter tournament last year that including Coyle, Crolla, Mathews and Gary Sykes.
However, far from being a career launchpad, the impressive victory has left Flannigan in the 'who needs him' club.
Wood admits finding suitable opponents for the 24-year-old has been difficult, and is hoping to secure the mandatory position to challenge current British champion Martin Gethin.
"To be honest Terry is the ugly duckling who has become a white swan and everyone's scared of fighting him," he added.
"We've offered fights with Kevin Mitchell and Crolla and they don't want to know. He was in a final eliminator for the British title against Liam Walsh, but he pulled out and stayed at super-featherweight.
"I'm thinking he'll be made mandatory for the British title and I've just got to keep him busy until that position comes, no-one will fight him in a voluntary defence because everyone knows how good it is.
"People know about Terry now after he beat them all in Prizefighter and they're not going to risk everything against him.
"I've got to get him into that mandatory position because nobody in the UK will fight him.
"If Crolla relinquishes his position as mandatory then you would hope Terry would be next in line. We'd be willing to fight anyone for the British title and I think he would beat Gethin.
"Terry is fighting in a couple of weeks' time and that's basically to keep him ticking over. He's waiting for his opportunity and to be honest I'm failing to deliver because nobody wants to fight him.
"The way he handled Nate Campbell (fourth round stoppage in April) there's no reason why we wouldn't take an opportunity abroad, but nothing has cropped up and for the moment we'll just focus on keeping busy until that mandatory fight comes along."