Promoter Mick Hennessy is hoping to get a fight for Tyson Fury before Christmas
Mick Hennessy has confirmed that Tyson Fury could still fight prior to his rearranged clash with David Haye.
Last Updated: 25/09/13 8:31pm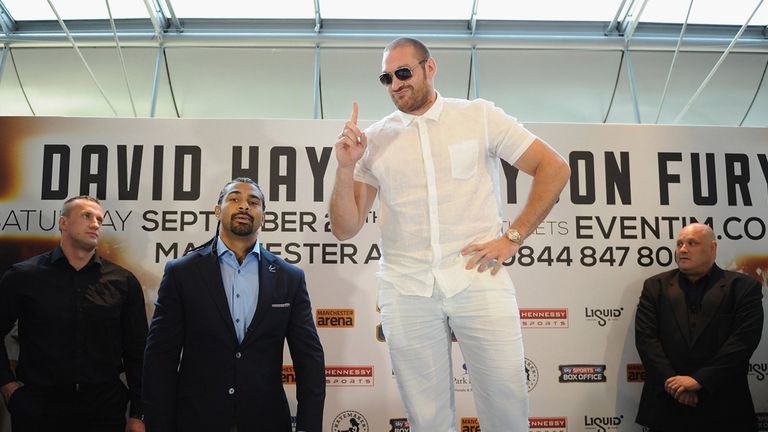 Fury was left in the lurch when Haye pulled out of Saturday's scheduled fight having suffered a cut in sparring that required six stitches.
But his promoter wants him to remain active in the ring and not allow a long training camp to go to waste.
"We are looking to fight soon, we are five months away and as long as we do something that won't be anywhere near the fight I don't see that being a problem," Hennessy told Sky Sports.
"Tyson deserves that, he pulled out of a final eliminator to fight David Haye, he's had one fight this year and that's not how Tyson Fury rolls.
"He's a busy fighter, used to fighting on a regular basis, so he shouldn't be penalised by not being able to fight.
"If a fight does take place it will have to take place in early-mid November but we haven't looked at any opponents yet."
Doubts
Fury and his trainer/uncle Peter said over the weekend that they were keen to move on from fighting Haye, however Hennessy denied that was ever the case.
"Since we found out on Saturday I've been pushing very hard to get this re-scheduled as soon as possible," he added.
"It's a fight that we didn't want to let go, it's a fight that we liked for a long time. We really believe in Tyson Fury, we really believe that he's not only going to outclass David Haye, but he's going to knock him out.
"We've obviously got some doubts in our mind about Haye, and he needs to step up and I'm sure he'll go through with this fight now because otherwise he will have zero credibility.
"It's a fight the public wants to see in a big way, they've shown that, and it's a fight Tyson wanted to deliver for the fans."
Fury had been talking about making his debut in the kick-boxing arena following the original Haye date, but Hennessy rubbished that speculation.
"At some point in his career... he might take a look at that. But right now that's not an option. He's got to win this fight in style and he's got to take the Klitschkos out, so he's got a hell of a lot do in boxing before anything like that."
Mick Hennessy was talking to Sky Sports Radio, for more click here.