Darren Barker wants domestic clash with Martin Murray after Felix Sturm defence
Darren Barker wants to become a British boxing great and has one eye on a domestic showdown with Martin Murray.
By Dev Trehan
Last Updated: 25/09/13 9:07pm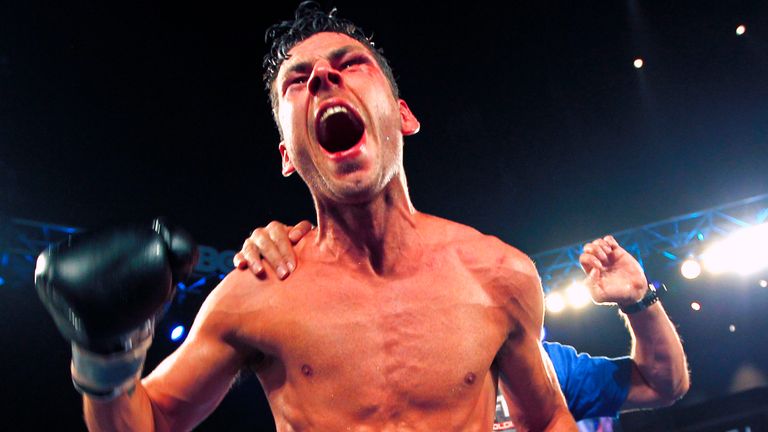 The Barnet boxer fulfilled a lifelong goal after climbing off the canvas to land the IBF middleweight belt with a points victory over Daniel Geale in Atlantic City, last month.
Barker must make a mandatory title defence against Sturm, but hopes to land a future battle with Murray in a bid to write his name in British boxing history.
"A lot of people don't understand that I have a mandatory defence first but I'd love a big domestic British fight against Murray," Barker exclusively told skysports.com.
"I think Matthew Macklin is going to need to start rebuilding a little bit if he wants a shot but Murray is definitely in line.
"He was unlucky against Martinez so if he can get a fight in before, I'll be ready to face him in the summer."
"It's a fight that would capture the imagination of the British public and would rekindle the likes of the Benn-Eubank era.
"They were fantastic fighters and we're good fighters - it's what we want to do. It's not just about getting the British boxing fans involved it's about getting the general public and sports fans involved and raising the profile of the sport and that's what I want to do."
Barker is fully focused on Sturm for the moment and knows a successful title defence will be another step towards achieving his ambitious plans.
Mandatory
"First and foremost I have got the fight against Sturm," said Barker. "I am over the moon that I am champion of the world but that hunger is there. I want to go on and achieve more and I want to cement my place in history as having been a British boxing great - that means defending my title and that's what I plan to do.
"Sturm is a good fighter and that's the job at hand but I've not gone off the boil, I've kept myself ticking over and I have stepped up my training this week.
Barker confirmed that negotiations are now at an advanced stage with Sturm and is keen to make his first defence as a world champion in front of a home crowd.
"I'm still waiting for all the details to be confirmed but it looks like Sturm in December," he said. "I'd like to fight in this country and it would be great for it to be a homecoming.
"A nice local event at Wembley Arena or Ally Pally or something like that would be lovely but I've got a fantastic team behind me in Tony Sims and Matchroom and they will do what's right for me but hopefully it will be a nice homecoming."
Barker admits he's still getting used to the fact he is a world champion and believes it is the culmination of plenty of hard work and sacrifice during his career.
"I still have to pinch myself to believe it but it is slowly sinking in now," he said. "You dream of moments like that especially with Michael Buffer doing the announcing.
"It's amazing that I'm talking to you know as champion of the world after everything I have been through. I have had some ups and downs but you set yourself goals whether they are realistic or not, and one of mine was to win a world title.
"I've watched that moment back with my old man a few times and it still gives me goosebumps but it's a brilliant feeling and it makes me remember that all the hard work I've done had been for that moment."