English champion Callum Smith has revealed a drop to middleweight would not be a problem
Callum Smith admits he could drop to middleweight if it means joining his three brothers as a British champion.
Last Updated: 28/09/13 9:07am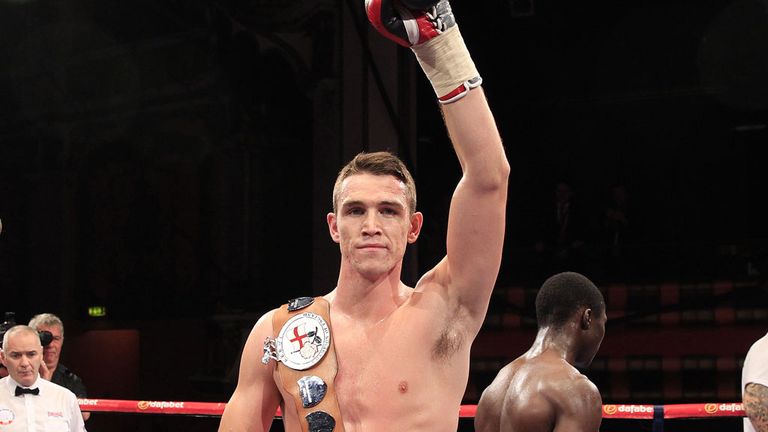 At 6ft 3in, Smith has the frame to grow into a fearsome light-heavyweight, but says he makes the super-middleweight limit of 12st comfortably.
And after winning his last six fights by first round stoppage, if potential opponents become hard to find a drop in weight could be a possibility.
"I do the weight comfortably and I'll eventually move on to light-heavyweight," he told Sky Sports. "(But) At the moment I would do middle before light-heavy.
"I'm a young 23 and it'll be a few years before I'll move to light-heavy. If a fight was offered tomorrow I could move to middle no problem.
"We're looking for someone like Patrick Mendy who is supposed to take me rounds and hopefully I'll get someone in the next fight.
"I'm enjoying the first round wins and it's getting people talking about me, but I do need rounds and experience over later rounds so that's ideally what we're looking for."
Punch power
Mendy was a step up in class for Smith, but swept him away inside three minutes last Saturday to win the English title.
And even Smith is surprised by his success since turning professional just over a year ago.
"I thought I would stop people with an accumulation of punches because one of my strong points is my accuracy, not my punch power, so I'm just as shocked as everyone else," he added.
"I've been working on my power, obviously I do my strength work, I'm learning the technical things as well.
"I've got a height advantage over everyone but when they do get at me I can fight just as well inside. Everyone aims to get close to me and I've got to learn how to be able to cope, and that's what we work on all the time."
Smith said he had finally put the disappointment of missing last year's Olympics behind him, when the vaguaries of qualification effectively ruled him out.
"When I was about 17 I was on the GB squad and that's where I wanted to be. I went to the Commonwealth Games and got silver there, but the three years I was on the team it was London-this, London-that.
"It was all preparation for the Olympics. In my eyes I should have gone and to not go it was tough to take and took me a while to get over.
"But it's gone now and I'm making my own way for myself."
Read more about Callum Smith in our Prospects series.