London 2012 gold medalist Anthony Joshua set for professional debut on Saturday
Anthony Joshua wants to earn 'respect' when he makes his pro debut against unbeaten Italian Emanuele Leo
Last Updated: 05/10/13 4:25pm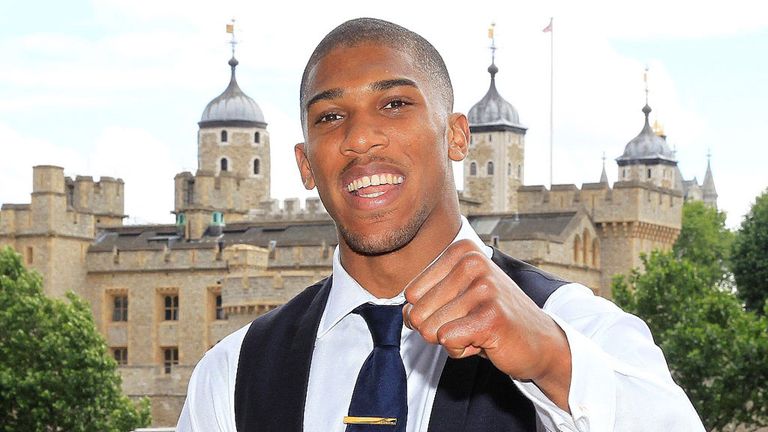 Joshua, a gold medallist at London 2012, will top the 'Carpe Diem' bill in a show which also features Scott Quigg's super-bantamweight fight against Yoandris Salinas.
The former Finchley ABC fighter is unfazed by the prospect of taking on the unbeaten Leo, and claimed the fight is all about starting his professional career the right way.
"I want to get respect by beating an opponent that I shouldn't be beating," said Joshua." By fighting an opponent with that type of record I'll get respect.
"My opponent is here to win, I'm there to win. It will be a great start. It's about respect."
"I'm going in as an Olympic champion so it's time to step up and raise the bar. I've got to start at a level that's credible for an Olympic champion.
"Becoming a professional has been tough, everything's based around three-threes, but my body's adapting really well. It's been tough but good."
Little nervous
Joshua said he is relishing his first professional contest since turning pro with Matchroom Boxing but admitted he does feel a little nervous ahead of his clash with Leo.
"I feel a bit nervous," said Joshua. "It's real now - seven weeks behind closed doors and now it's coming to the forefront now with two days left so it will be great.
"Once the bell goes all the nerves will go out of the window. "But because it's new - the press conference and all that is new to me - but it's going to be great. Once I start relaxing, once I start my boxing it will be great."
You can watch Anthony Joshua's debut on Saturday October 5th on Sky Sports 2. Fight Night - Live starts at 8:30pm