Anthony Joshua will be back in action at the end of this month after impressive debut
Young British heavyweight Anthony Joshua says he will be keeping busy between now and the end of the year.
Last Updated: 06/10/13 7:49pm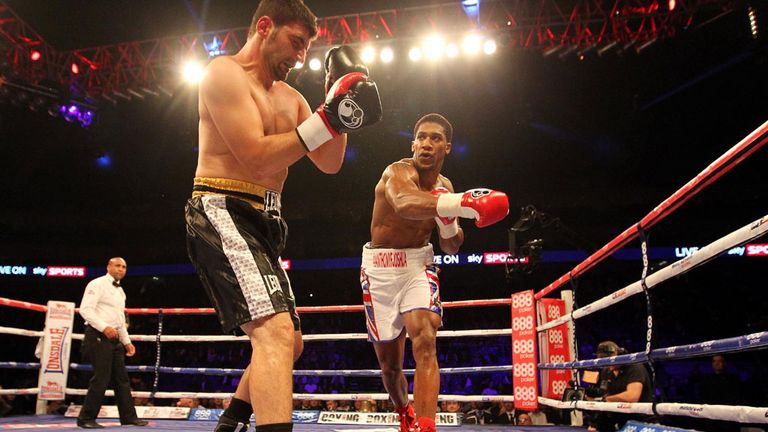 The 23-year-old is a very exciting prospect and, having won super heavyweight Olympic gold last year, he knocked out the previously unbeaten Italian Emanuele Leo in the first round at the O2 Arena on Saturday night in his first fight since London 2012.
However, there will not be another lengthy gap before boxing fans get to watch Joshua in action again.
The Brit told Sky Sports: "On October 26th I'll be in Sheffield, competing on the undercard of Kell Brook.
"It will probably be another tough opponent and I'll have to go through the process again, the weigh-in, the press conference, the nerves again, but it's a good feeling.
"I'll be getting back into training to prepare for whoever I've got to compete with. Hopefully, I'll get a win there, then onto the next one and, if there is time, we'll squeeze in one more before the year ends."
Despite his impressive win on Saturday, Joshua says there is still room for improvement in his preparation.
"In training, you can have five good sessions and one bad one," he said. "Sometimes that can make a difference between winning one round or losing one round.
"I just need to be a bit more professional. If I can step up my game that bit more, I'll be all right."
Close call for the referee
Joshua's enthusiasm almost got the better of him at one point against Leo, as he nearly floored the referee with a left hand at one point.
"You know what they say, protect yourself at all times!" said Joshua.
"I've seen him (Leo) throw an upper cut and my reaction is a left hook, but the ref is there and I've accidentally caught him. I apologise if he's watching.
"He took it well and just carried on."