Timothy Bradley is looking to add another Hall of Famer to his resume in Las Vegas
Timothy Bradley believes he will secure his legacy in boxing by defeating Juan Manuel Marquez in Las Vegas
Last Updated: 08/10/13 1:53pm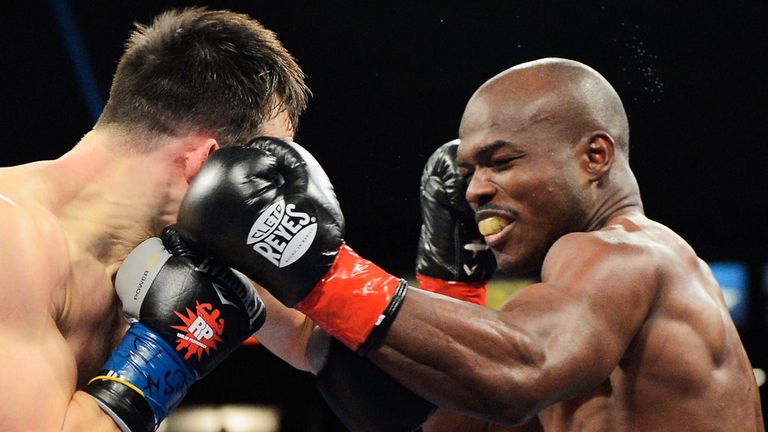 Although 'Desert Storm' remains undefeated in 30 contests he lacks the recognition of many big names in the sport.
A victory over Manny Pacquiao last year was undermined by the controversial points decision handed down by the judges, a result that Bradley admits hurt his career as well as on a personal level.
"Everybody came after me, I got laughed at, death threats, it was a terrible time, my kids got stick at school," he said.
"I'm passed the Pacquiao thing now, I'm on a new road. I want this fight for my legacy. Two hall of fame fighters on my resume."
The criticism stung the American into action in his last fight against Ruslan Provodnikov, when he abandoned the boxing skills around which he has built his career to trade with the heavy-handed Russian.
The move almost ended in disaster, Bradley surviving some torrid early rounds and a late knockdown to win on points.
Heart
However, he knows he cannot afford to fight like that again. He required two months of rest and even now cannot remember most of what happened in the fight.
"I was like wow, why did I fight that way? I couldn't believe I took that many punches and I couldn't believe I was still standing after the fight," he said after reviewing the fight on video.
"It showed to me what type of fighter I am, the heart and determination. It showed the boxing fans what a tough cookie I am.
"A lot of people lost respect for me after the Pacquiao fight, saying I didn't deserve the belt, but I wanted to prove to everybody that I was the true champion by just trying to knock him out.
"We boxed the whole camp but I ignored the gameplan. The night before I just wanted to take him out. But I started listening to my corner and started moving. I hit him with the kitchen sink and he just laughed at me. I was beaten up bad but he was worse."
The 30-year-old admitted the performance earned the respect of fans as well as those closest to him.
"I went to New York, met with HBO who treated me differently, my promoters treated me differently, people around town showed a lot of respect, they couldn't believe I could take those big shots," he said.
"The feedback made it all worth it. I believe things happen for a reason and there was a reason why I fought that way. It brought some new light to my career - after the Pacquiao fight those lights got dimmed, I was in a very bad spot in boxing."
However, Bradley has no intention of taking the fight to Marquez like he did with Provodnikov.
"I'm a fan of Marquez, I love his style and has a really smart corner," he added. "He's strong, he's a smart fighter and great technician. One of the best counter-punchers in the game. It's going to be a tough fight for me in there.
"He will want to come and get me because after the last fight they will think I'm vulnerable. But I'm going to be faster, I have natural speed and I'm smart and a great counter-puncher too.
"It's a very interesting fight and fans don't know who is going to win."