Tony Sims expects dominant win from Darren Barker in Germany
Trainer Tony Sims dismissed fears about Darren Barker's decision to defend his WBA title against Felix Sturm in Germany.
By Richard Damerell
Last Updated: 10/10/13 11:41am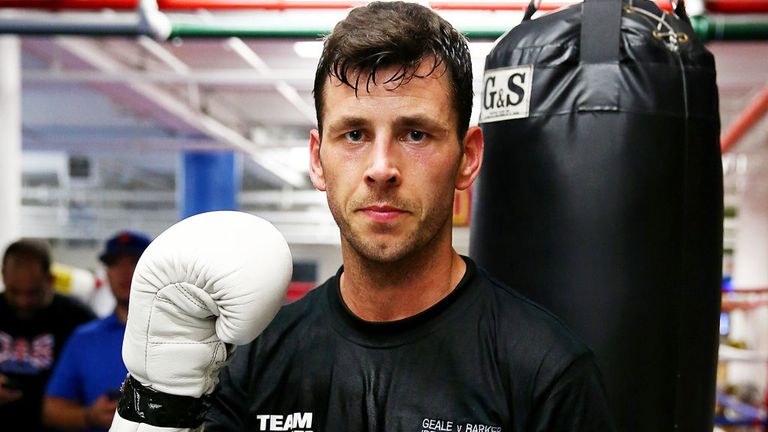 Barker won the IBF middleweight belt in August with a points victory over Daniel Geale and mandatory challenger Sturm was lying in wait for the winner.
The Barnet fighter initially hoped to face Sturm in England, but has agreed to travel to his opponent's home patch in Stuttgart for the bout on December 7, live on Sky Sports.
Sturm has proved hard to beat in his own backyard as Martin Murray was held to a draw and Matthew Macklin dropped a controversial points loss on trips to Germany.
An immediate rematch will be held in London if Barker is beaten, but Sims is confident his fighter can rule out plans for a return bout with a dominant victory.
"I think Darren will beat him. It don't really matter if it's in Germany or wherever," Sims told Sky Sports
"I just think Darren will beat him convincingly anyway.
"Sturm isn't the fighter he was. He was a great fighter, but he definitely isn't the fighter he was and I just think with Darren's sort of work-rate, he will beat him anyway."
Massive offer
Sims admits Barker simply could not refuse the huge payday and the terms of the contract which were tailored to suit all his requirements.
Such a lucrative fight is a fitting reward for Barker after some injury-plagued years, but Sims feared he would blow the deal with his willingness to fight Sturm for any fee.
"It was a massive offer, probably three times more money than we were going to get to box over here", said Sims.
"But we put the rematch in the clause with independent IBF officials. We thought it was a great offer and something we couldn't turn down really.
"I kicked Darren out of the negotiations, because Darren would fight anyone, anywhere, for any money.
"People don't know he's like that, because he comes over as a gentleman when he talks to people. Darren Barker is a proper fighting man. He'd fight literally anybody, anywhere.
Earnings
"Obviously I want to do the best thing for Darren. I want to earn him the most money, especially at this stage of his career as well.
"When the Germans are offering ridiculous money like that for a defence and they are putting everything in that we asked them to as well, it's a no brainer."
Barker is used to fighting on foreign soil and Sims feels he will not be fazed by the hype and razzmatazz that surrounds Sturm on fight week.
He expects Barker to take care of Sturm in style and set up more big fights back in London.
Sims said: "He's fought all round the world as an amateur. He's fought in Canada, he's fought twice in Atlantic City.
"Going to Germany isn't a big deal. It's a short distance to fly.
"Darren's up for the fight. He's already been in training a couple of weeks now. He hasn't had much time off.
"We'll just be looking forward to getting there on the night, winning the fight and hopefully his next defence will be in London."