Darren Barker is confident he has the beating of Felix Sturm when they clash in December
Darren Barker is confident he will get the better of Felix Sturm when he makes the first defence of his IBF title.
Last Updated: 10/10/13 8:49pm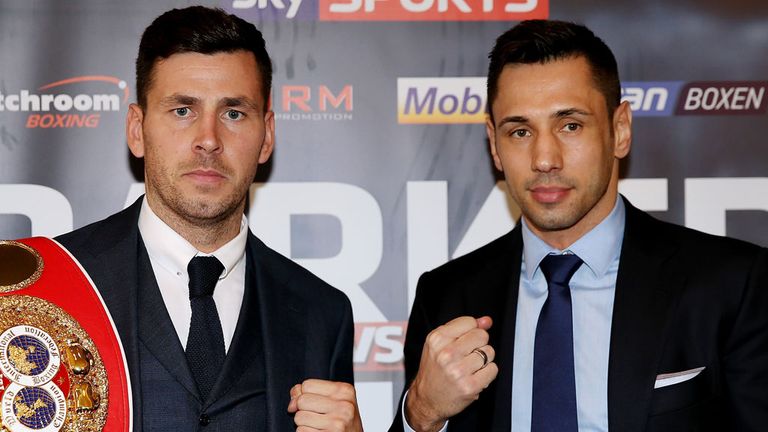 Barker went to Atlantic City to clinch the title from Daniel Geale in August and will travel to Germany to face a popular former champion in Sturm.
However, the Barnet boxer expects to rise to the occasion and bring the belt back to North London.
"I have worked so hard to win the title and there's no way I'm letting it go now," said Barker.
"Tony (Sims, trainer) and I have a game plan in mind and plenty of weeks to work on it day in, day out in the gym, so I am very confident I'll retain my title and do so in style.
"Felix is a quality boxer and was a great champion, and a massive star in Germany.
"He's beaten some excellent fighters and had a couple of great fights with my Brit rivals Matthew Macklin and Martin Murray, but I truly believe I've got his number.
"It's a great first defence for me because he's a huge name but one that I really believe I have the beating of and I'm sure it's going to be a great occasion."
No-brainer
Germany is a notoriously hard place in which to get the judges' verdict but Barker believes he will win so convincingly the result will be beyond doubt.
"People asked me 'what are you going to Germany for? You're mad, you're mad' but it was if somebody had said here is the winning lottery ticket, do you want to buy it for a quid? It was a no-brainer, the deal was so good.
"Aside from that I am extremely confident of winning. I respect Felix as a former champion, a great fighter with tons of experience, but he hasn't experienced Darren Barker yet.
"The confidence that comes from winning a title is massive. I am looking forward to the fight. Training is going well and is only going to get better and I can 100 per cent guarantee I will be leaving Germany still champion.
"I am the proud owner of that belt and I look forward to a long reign as world middleweight champion."