AIBA World Boxing Championships: Sky Sports Scholar Jason Quigley believes Ireland can match anyone
Jason Quigley believes that Ireland have a squad to be feared at the AIBA World Boxing Championships in Kazakhstan.
Last Updated: 11/10/13 11:23am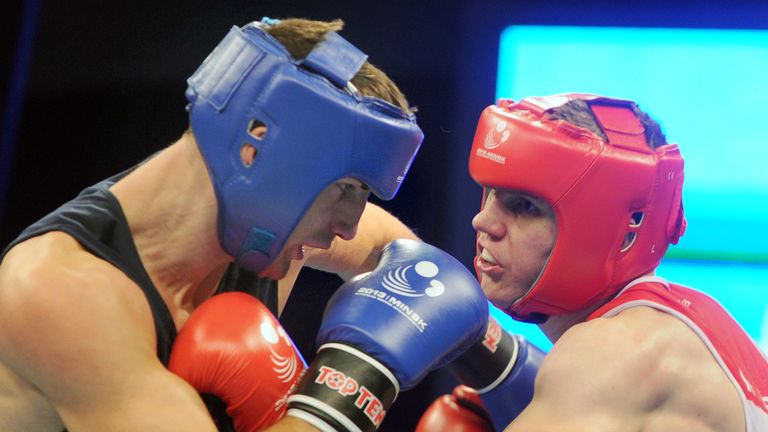 Ireland may never have claimed better than a bronze medal in the tournament's history to date but Quigley is one of a number of boxers in the Irish travelling party aiming to change that.
Quigley credits the work of the Irish Sports Council in helping establish the Irish High Performance Unit as a key factor in making Ireland a force to be reckoned with in amateur boxing.
"We're not called the 'Fighting Irish' for nothing," he told Boxing News. "Definitely since the High Performance Unit became involved, the Irish Sports Council and everything like that, they've been able to fund some of the boxers.
"They've been able to set up a more permanent High Performance Unit and give us, the boxers, more time to settle down and concentrate on our training and train twice a day each week."
Force
The 22-year-old from County Donegal also praised technical coach Zaur Antia and believes the Georgian has given the Irish boxers crucial information to help them compete with the likes of Russia for the top medals at the championships.
"I think bringing in our technical coach, Zaur Antia, over from Georgia, has been a massive help," added Quigley. "He's shown us the insights into Eastern European boxing, the style and everything like that.
"Russia always was a dominant force, and still are a dominant force. But Ireland are definitely right up there now with them and I think if anybody draws a Russian or an Irish lad they know they're in for a tough fight now."
The World Championships begin on Monday in Almaty and with Quigley amongst the favourites for the middleweight title.