Kell Brook and Vyacheslav Senchenko both just under limit at weigh-in
Kell Brook and Vyacheslav Senchenko both came in just under the limit at the weigh-in for their IBF title eliminator.
Last Updated: 26/10/13 12:23pm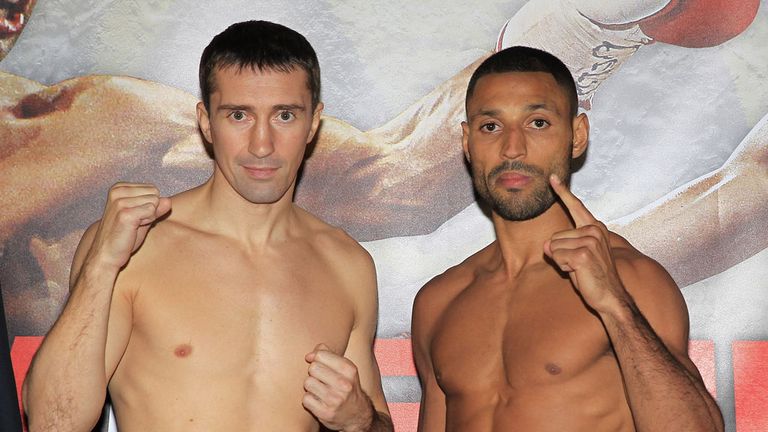 Former world champion Senchenko took to the scales first and was an ounce under the 147-pound limit, while Brook - who looked in superb condition - was also just an ounce or two under.
The undefeated Englishman insisted he was delighted with the way his preparations had gone and was now determined to seize his chance after seeing a shot at Devon Alexander's world title cancelled after injury problems earlier in the year.
Indeed, with American audiences watching his progress on Saturday, Brook promised to deliver a knock-out of his durable 36-year-old Ukrainian opponent.
Ready for war
"I can tell that he (Senchenko) wants it, I know that I'm in for a tough fight. I know that he's trained and he's ready for it," Brook told Sky Sports. "I'm just happy with how I've prepared, I'm ready for war.
"Obviously after the injury, the setback it made me look at myself. It's reignited myself, it's given me the drive.
"He's tall, he uses his range well. He's been there, he's got the t-shirt, he's been a champion and boxed at that level, so I expect him to box out of his skin. He's a great champion so he's going to give it his all.
"I've definitely got to go for a knockout. I've trained hard for it... I've got myself in great condition and you could see today on the scales I'm ready for whatever needs to be done.
"He's taller than me so he's going to get chopped down like a tree baby, I'm coming for him!"
Watch Brook v Senchenko live on Sky Sports 1 HD, Saturday from 8pm