Callum Smith pushed into the sixth round on Kell Brook undercard in Sheffield
Callum Smith came through the toughest test of his career to date in style, stopping durable Argentinean Ruben Acosta.
Last Updated: 26/10/13 10:47pm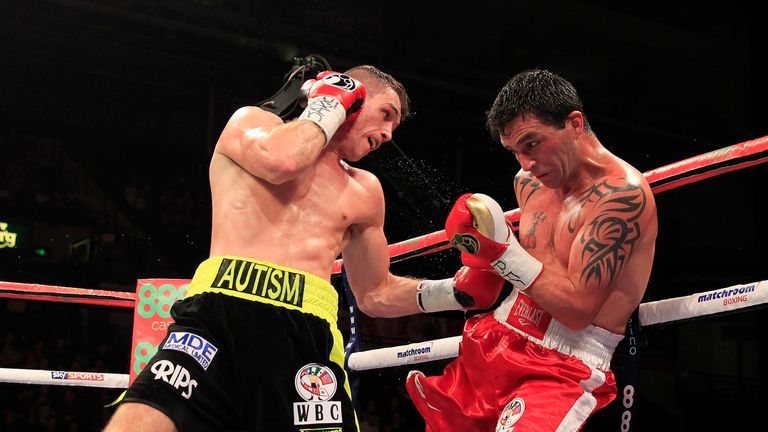 Liverpudlian Smith had failed to get beyond the opening three minutes of his six previous fights, the last of which saw him flatten Patrick Mendy to become the new English super-middleweight champion.
Promoter Eddie Hearn certainly pushed the level of opponent in picking Acosta, an experienced campaigner at the weight limit who had twice previously challenged for world titles.
The reigning South American champion proved a tough nut to crack in the first half of the bout, doing all he could to stay out of range as Smith dominated the centre of the ring.
He also tried to land shots himself, catching his rival occasionally. However, he never showed the kind of power capable of pushing Smith back, meaning it was just a matter of time until the 23-year-old caught up with him.
The end duly came in the sixth thanks to some sickening body shots. Acosta rose from a crumpled heap on the first occasion he was put down, but a pair of lefts had him sprawling on the canvas again shortly after.
"A lot of people watching me now expect the body shots. The plan was to go up and then down," Smith told Sky Sports afterwards.
"He was a good opponent and I think I learned a lot more in that fight than I did in my last eight. As much as I enjoyed the early knockouts, you can't beat that.
"He caught me a few times when I was being sloppy, so I learned a lot. You've got to be switched on at all times - one shot can change a fight and I got tagged a few times there. There's still stuff to learn."